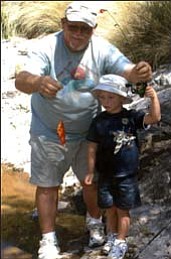 Originally Published: August 7, 2008 6 a.m.
One of the things I have always dreamed about was going on my first fishing trip with my only grandson, Logan.
The little guy, who is 6 years old, lives in Oklahoma, and while we don't get to see each other a lot, we've talked about the fishing trip many times.
Earlier this year, a trip was planned by my son, Jimmy, and his wife, Shannon, to bring Logan and come out and visit for a few days.
Part of the plan called for us to go on a nighttime fishing trip on Lake Mead.
Unfortunately, when it was time for the kids to arrive, my dad had become very ill, and shortly after they arrived, he passed away.
Any thoughts of a fishing trip were obviously put on hold.
However, before Logan was to go home, thanks to his mom and stepfather who had also come out to visit, a short trip was planned.
Even in our time of family sorrow, I just had to take my grandson fishing.
There just wasn't time to go to Lake Mead before Nicole and Ray had to leave for their return to Oklahoma, so I put together a two-hour trip to a small spring.
Accompanying Logan and I on the trip to take photos would be his mom, Nicole.
The late July morning was hot and humid, but the little guy and his mom seemed up to the challenge.
By the time we got to our fishing hole, the fish were more content to find a shady spot to hide in rather than feeding.
But we did get a little action, and Logan got to reel in three fish before we left.
With the action being just a tad on the slow side, Logan's focus was more on the yellow jackets and birds flying around rather than standing by grandpa and trying to fool the fish.
He, like all little boys, liked to throw rocks in the water.
I fondly remember my dad telling me about when he used to take me fishing as a young child. I heard him say several times that I was always more interested in throwing rocks into the canals we were fishing in than actually sitting and waiting for a fish to bite.
Guess the nut doesn't fall too far from the tree after all.
Other than Nicole getting bit by some unknown critter that caused her a lot of discomfort, we had a good time.
So the first fishing trip with the grandson went into the books.
Nope, we didn't catch a lot of fish, and it was plain to see that patience is not Logan's strong suit.
But it was a trip that made fond memories for Nicole and I, and hopefully, someday down the road, for Logan, too.
We never know how long we are destined to be here on this earth, and as such, it is important to make every minute of it a quality experience.
Hopefully, Logan and I and my boys will get to share more fishing trips in the future.
But whatever happens, there is one happy grandfather in Kingman who has a wonderful memory of taking his grandson fishing for the first time.