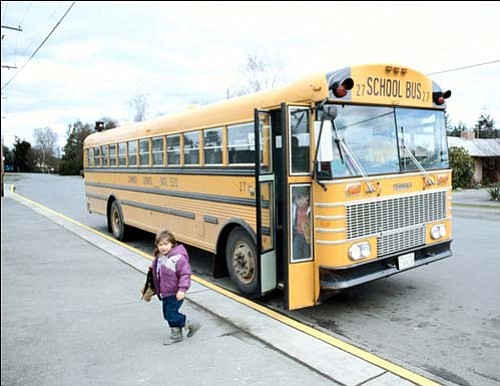 Originally Published: August 10, 2008 6 a.m.
KINGMAN - The Kingman Unified School District Transportation Department has been feeling the heat from rising fuel costs, budget reductions and parents.
The district decided to scale back its student transportation program for the 2008-2009 school year due to rising fuel costs and budget reductions, Superintendent Roger Jacks said in a news release.
In the guidelines established by the KUSD Governing Board, student bus stops were moved from a one-mile radius from the school to a one-and-one-half mile radius for children attending kindergarten through eighth grade. For students in ninth grade through high school seniors, the one-and-one-half mile radius from the school was increased to two miles.
Getting to school isn't the only change.
After school daycare transportation has been cut back as well.
"The district will only provide transportation to day care centers that are within the attendance area of each elementary school," Jacks said.
The reason they have chosen to do so is the buses will be traveling by those centers when dropping students off at their assigned bus stops, Jacks added.
The district has sent a letter with this information to businesses in preparation for the new school year.
Noreen Frisch, executive director of the Boys & Girls Club of Kingman, was one of the locations to receive notification the district is removing some routes.
While the district will still provide transportation to the Kingman location for Palo Christi, they will no longer transport Hualapai, Manzanita, La Senita and Cerbat students there.
In the letter from the district, Frisch said they were quoted $19,375.32 for transportation services by the district to continue the routes for the 180-day school year.
"That's a lot of money," Frisch said. "I'm a nonprofit. I can't come up with that."
Frisch said that she has a budget of around $200,000 for the whole year at the Kingman and Golden Valley locations. She has been reaching out to the public, as well as Kingman Area Regional Transit, to help provide transportation.
"You're talking a big amount of money for us," Frisch said. "It's breaking my heart. That's what we're all about: helping children."
Frisch and other businesses aren't the only ones to take issue with the new plan.
Joplin Ortiz has two children in the district. In an e-mail to the Miner, Ortiz said she has been informed her son will have to walk four miles to the high school.
"I am sure our district and board members know what a hardship it is on us parents who have to work," Ortiz said. "We don't always have the means to transport our children to and from school, that is why we need transportation."
Diana Turner has a 9-year-old daughter who will also no longer receive a bus ride to school. She expressed concern for the safety of her child walking to and from school in an e-mail to the Miner.
"The safety of our children demands that something be done," Turner said.
She added that she plans to attend the school board meeting at 5:30 p.m. on Tuesday at the KUSD Office, 3033 MacDonald Ave.
Jacks advised parents with questions or concerns to contact the transportation office at (928) 753-5928.