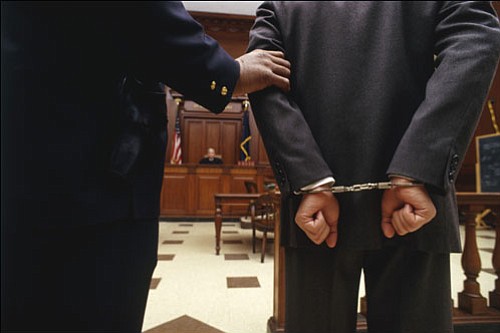 Originally Published: August 12, 2008 6 a.m.
KINGMAN - The third murder trial for Chip M. Smith appears to be on schedule.
Smith, 37, of Golden Valley is charged with the second-degree murder of Chris Payton, 30, of Golden Valley in August 2001.
Smith's attorney, Vincent Iannone, told the court Monday that things were on track for the Nov. 5 trial date and that it should last no longer that three weeks. A status hearing has been set for Sept. 11.
Judge Robert Moon warned both Iannone and Deputy County Attorney Josh Ackerman that should something come up that would delay the trial that the court be notified as soon as possible.
He reminded the two attorneys that he would be stepping down as a judge at the end of the year.
A delay in the trial could push the case into 2009 and possibly into the hands of a new judge, which could delay the trial even longer.
This will be Smith's third trial on second-degree murder charges.
Smiths' first trial in March 2003 was declared a mistrial after it ended in a hung jury.
A second jury convicted him of the charges and he was sentenced to 22 years in prison in October 2003. Smith appealed the conviction, stating that Judge Richard Weiss mishandled the dismissal of a juror.
Weiss dismissed the juror after the juror admitted considering Smith's possible punishment in his decision. Jurors are not supposed to consider the possible punishment a defendant may receive.
The Arizona Court of Appeals found fault with the handling of the juror and set aside Smith's conviction and sentence.
The case was returned to the Mohave County Superior Court for a third trial.
Law enforcement officers originally thought Payton was killed in auto accident, but later determined he had died from a gunshot wound to the head.
During the trial, the lead witness for the prosecution, Ashley Holmes, said she saw Smith shoot Payton at close range with a 9mm rifle.
Investigators believe Payton's truck inched forward and rolled over after he was shot.