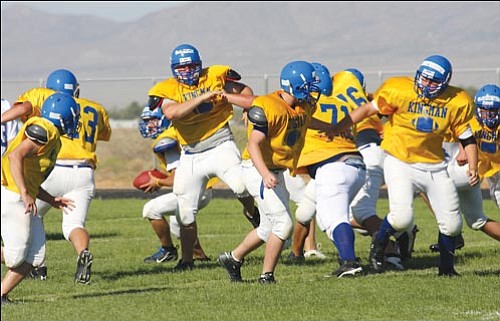 Originally Published: August 17, 2008 6 a.m.
KINGMAN - The atmosphere was upbeat for the Kingman High Bulldogs after the first week of football practice despite a dose of bad news.
Jonathan Oakie, who last season as a junior set the KHS record for most yards rushed in a single game with 267, suffered a torn ACL on July 25 at the Payson football camp. Coach Jamie Nelson said that Oakie had surgery on Monday and is lost for the season.
"With the double-slot offense we've been able to work in a number of guys, but without Jonathan Oakie it does make it a little different," Nelson said. "We lost his game experience."
Senior linebacker Matt Kinion, who was named second team All-Region in 2007, was excited about the Bulldogs' first official week. "It's going pretty good. I like the coach, the team and the new stuff we're learning," Kinion said.
Kinion said he felt that the Bulldogs were beginning to play at a higher level and gaining more confidence as each day went by. "We're in good shape and we're getting there," Kinion said. "Of course we'll be ready when the season opens." The Bulldogs will hold their annual Blue-Gold game on Aug. 29 and open the season at home against Phoenix South Mountain on Sept. 5.
Improvement and confidence were the Bulldogs' talking points for senior quarterback John Scott. "We've had good improvement," Scott said. "It's a very different offense running the option." Scott said that the Bulldogs have been growing more and more confident and that started over the course of the summer.
Protecting Scott when he's in the pocket is a big job for the lineman, and Scott said that he's liked what he's seen so far. "The lineman are working hard, and the coaches are working with them in the weight room."
Nelson was able to take 32 varsity players to the Payson camp. "The hardest part has been the guys who didn't go to camp," he said. "We have to get those guys coached up."
On the defensive side of the ball, Nelson said that he had been tinkering with a 4-3 formation, but the loss of Oakie caused him to return to the 3-4. "The players are confident in the 3-4, and today we had guys flying around," Nelson said.
Friday was only the second day that the Bulldogs had full pads on, and Nelson said when that happens it's a big difference from running the drills without them. "We're making progress," he said. "Today we were better than we were yesterday."
Getting ready for the season always requires more work, especially for Nelson. He's been on the go from 6 a.m. to 9 p.m. trying to get his troops ready. "There's always something to do," Nelson said. "You'll never be able to get everything you want in by week one."
Nelson wanted fans to know that his team does have Gold Cards for sale. This year's price is $20, and the savings opportunities have more than doubled from last year. If interested, contact Nelson at (928) 692-4486.
"If someone wants one, I'll send one of our young men out there to get them one," he said.
More like this story