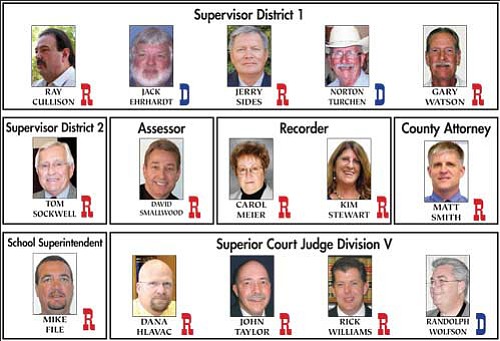 Originally Published: August 17, 2008 6 a.m.
KINGMAN - The date of the Arizona primary is almost upon us. Do you know who you're voting for?
The Miner recently sent out a questionnaire to all the candidates running for county offices. Each candidate was asked to respond to three questions: What do you think qualifies you for this office? Why should someone vote for you? What will be your top three priorities if elected to office.
A majority of the candidates responded to the questionnaire. Those candidates who did not include: County Assessor Ron Nicholson, County Sheriff Tom Sheahan, County Treasurer Lee Fabrizio, treasurer candidate Melissa Havatone, Supervisor Buster Johnson and supervisor III candidate Val Starr.
The Miner did not place a word limit on the candidate's responses to the questions although some were edited due to space constraints.
Also, four offices have candidates running unopposed. Those offices are the county sheriff, county superintendent, supervisor District II and county attorney.
The date of Arizona's primary this year is Sept. 2.
In the primary election, voters will receive the ballot for the party which they are registered under.
Voters registered as Democrats will receive the Democrat ballot, those registered as Republicans will receive the Republican ballot, etc.
Voters registered as Independent or non-party affiliated have their choice of the Democrat, Republican or Green party ballots.
The Libertarian ballot is available to those voters registered as Libertarian only.
Independents are not voted for in the primary, so the Miner will run the response from Independent supervisor District 1 candidate John Ford prior to the general election.
Voters will need a photo ID, such as an Arizona driver's license, in order to get a ballot. Or a voter may show two forms of non-photo ID, such as two different utility bills with the voter's name and current address.
The address on the ID must match the voter registration record, otherwise voters will receive a provisional ballot.
For more information on voter registration or to find out where your polling place is, contact the Mohave County Voter Registration Office at (928) 753-0767.
Supervisor District 1
Ray Cullison (R)
When I ran for the state House of Representatives I learned a lot about the relationship between Mohave County and state offices. This is important, because as a member of the Board of Supervisors, there will be many times I will be at the capital lobbying legislators to practice due diligence in giving Mohave County what is rightfully ours, such as Highway User Revenue Funds and State Lake Improvement Funds that the state keeps on raking to balance their budget.
They have to realize that Mohave County has a budget also.
I have made many friends and acquaintances at the state capital that I believe I can work with on getting these funds here in Mohave County.
After all, Maricopa County is not the only county in the state. They need to realize that the fifth largest county in the nation is growing, and we have needs to be met.
It is important for the next supervisor of District I to know how this process is done and how to adequately represent the people of Mohave County in that arena. I believe I am the man for that job.
I believe that someone should vote for me because I have the best interests of the taxpayers of Mohave County at heart. I have lived in Mohave County for 35 years, all of it in District I. I believe that the way the economy is, some politicians would rather raise taxes to make ends meet rather than digging for the right solution.
As a taxpayer, I am tired of being taxed to death. I will work to broaden our tax base and lessen the burden on the taxpayer. I will do everything in my power not to raise taxes, but to bring in environmentally friendly industry to offset our budget woes.
Although the state keeps on cutting what they're giving to rural counties, I will work on being independent of the stranglehold the state has on Mohave County. Yet, I will continually fight for the funding that the state owes us.
1. The budget of Mohave County has to be the most important priority, especially with the way the economy has become this last year.
Currently, the Board of Supervisors receives a summary of each department's budget. I would require a line-item budget from each department. I would also require a monthly financial report of how each department is spending the taxpayer's dollar.
I want to make them accountable for every penny.
2. I will work toward random drug testing for all recipients of county aid. I believe that we're doing a disservice to those who might be doing drugs by contributing to their habit and not making them accountable for their actions.
By random drug testing they will have two options: clean up and become a reputable member of society or be declined any aid.
In the long run, this will help save thousands of dollars to the county taxpayer, and by implementing this policy, we can win the war on drugs in Mohave County.
3. I've heard a lot of concern about the relationship between the county manager and the Board of Supervisors and the employees of Mohave County.
Do we really want to be known as the county full of dissent and division, or do we want to be a county that is known as organized and unified?
From talking with many people on recent events, they believe the Board of Supervisors has a little egg on their face.
I believe, with the right leadership, Mohave County could be the greatest county in our nation. We need to work together in all departments to make the work environment friendly and professional. I believe that will have a trickle-down effect to our community and to those companies and families that are looking in from the outside, who may want to relocate here.
Jack Ehrhardt (D)
I have lived in Mohave County for 35 years with my wife, Sharon, and our two married daughters with their children.
I have worked for the past five years as the Planning and Economic Development Director for a federal government agency, the Hualapai Tribal Nation, here in Mohave County. In this position I have skillfully and successfully managed government programs and projects that involve millions of dollars and a multitude of people with many agencies and worked with all levels of government - local, state and federal.
I have served on several city and local boards and commissions, such as Bullhead City Planning and Zoning, the Board of Adjustments, the Building Board of Appeals, the Northwest Watershed Council, the Boys and Girls Club and the Salvation Army. I am active on several local economic development committees in the perpetuation of vibrant, broader-based, environmentally sound development.
I am an Arizona-licensed commercial and residential building contractor, having successfully completed many building projects here in Mohave County.
I have a visible, proven track record of commitment and action on behalf of our community. I have stood up for justice and have intervened at the Arizona Corporation Commission to protect the depletion of our water resources.
I can be trusted to tell the truth about all the county's activities and fully disclose financial conditions. No more million-dollar expenses without a vote of the people.
I have worked diligently to stay pro-active on important issues and have won state and federal awards on energy efficient innovation for green building and sustainability. My knowledge of new sustainable urbanism, smart growth and community planning will assist us in the future to build vibrant communities with good-paying jobs.
I walk the talk, having built two solar homes for our family, which were featured on a Home and Garden TV program, "The Good Life."
I have apprehended criminals and won convictions, and believe we can improve this system and also spend less on our criminal expenses.
I have been published in books and magazines and peer reviewed in my field, including Northern Arizona University and the International Code Council.
I am endorsed by the Hualapai Tribal Council and the Sierra Club's Grand Canyon Chapter.
1. I feel that it is important that we are fiscally solvent and running lean in all of our government operations. County directors need to provide feasibility studies about their projected yearly operations, provide efficiency reviews on energy consumption and analyze employee performance with good leadership, at the same time enhancing the workplace and worker values.
We need to have our state representatives be financially accountable with quarterly public meetings.
2. I will provide economic stimulus through education in smart growth and sustainable urbanism that would make our area a vibrant and desirable community for future growth.
I would establish a county office, in conjunction with Mohave Community College, that would bring this forward. It would start with the creation of a U.S. Green Building Council. It would include accessible renewable energy and community plug-in sites for electric cars, which would create more and better jobs.
3. I would create an open, qualified government that follows the county's General Plan and make changes through the public process.
Jerry Sides (R)
I am qualified to perform the duties of supervisor for District I because of my many years of diligent service for Mohave County. This experience has given me the knowledge needed to do the job.
I have been involved with all aspects of the county business while working for Facilities Management, including training and supervising staff, budget management and writing policies and procedures.
I have served on a variety of work and study panels as well. In short, I know how to do the job.
Unlike other candidates running for District I supervisor, I have been employed by Mohave County for 21 years. I have been involved in all aspects of county business. I am a qualified candidate who will not waiver in my commitment to serve the public. I will serve the public with the same dignity, honesty and integrity that I learned while serving in the United States Navy for four years.
1. Carefully managed economic growth: We need to make wise decisions as we grow. As the supervisor for District 1, I will consider such things as water quantity and availability, the amount of pollution generated by new businesses, the available infrastructure and the number of jobs provided to local residents.
2. Water issues: We need to know the amount of water available in our aquifers. Is there plenty for the years to come if it is used wisely? Are we acting as good stewards for our children and their children?
3. County spending: Every dollar coming into Mohave County should be accounted for and spent with the idea that the money belongs to the taxpayers, not to the bureaucrats. We do not need luxury cars, loaded budgets and frivolous spending in Mohave County.
Norton Turchen (D)
My past and political experience qualifies me for this office. In the state of Illinois, I was a councilman for nine years, chairman of the Zoning Board of Appeals, a member of the Plan Commission, appointed to the DuPage County Water Commission by the Illinois governor and appointed to the O'Hare Expansion Committee. I served four years as the president of the Dolan Springs Chamber of Commerce.
I am a successful businessman with my wife, Judy, in a tack and feed store in Dolan Springs.
And, most of all, I am a people person.
Residents should vote for me because of my past and present experience. I was employed by the state of Illinois as an agent for the Department of Commerce and Community Affairs. My position was to aid start-up businesses and to head a program to start up and expand businesses for minorities and women through grants and state programs.
They should also vote for me because of my open door policies. I will visit each town in this district; one town at a time, twice a month. I want to know the concerns of all rural area towns.
I am employed by the Kingman Unified School District at Mt. Tipton School in Dolan Springs and am attuned to the needs of school districts throughout Mohave County.
I will help the county survive President Bush's recession without putting businesses and non-profit service organizations and clubs out of business.
I will form a water commission that reports directly to the County Board of Supervisors.
I will not be a rubber stamp supervisor, and I will face the legislators in Phoenix for the betterment of Mohave County.
Gary Watson (R)
I have diverse experiences in business. I have owned, operated and sold three successful Kingman-area businesses.
I am well educated. My education includes study at the American Institute of Foreign Study in Bonn, Germany. I have my Bachelor of Science degree in Business Administration from Northern Arizona University.
I have public elected-office experience. I have served as Kingman's vice mayor and a City Council member as well as chairman of the Board of Arizona Community Colleges.
I have community service experience. I have been a member of and have held leadership positions in numerous youth organizations, service clubs and community organizations. I have been instrumental in developing new programs and construction of youth-based facilities.
My record of business, education and respected community service has created positive relationships with our communities and local, state and national governments and their representatives.
I have the ability to listen with impartiality. I am accountable, as proven by my performance. I am ready to listen and am ready to work for you.
I have the knowledge of the district, due to my years as a successful businessman and my years of public service.
Most of all I have the desire and dedication to help Mohave County attain its unique potential.
I believe that I, Gary Watson, am the only candidate with these qualifications and respected reputation. My abilities, credentials and background prove I am well prepared to be your supervisor for District 1.
I have a record of proven performance. I say what I'll do and I do what I say.
I provide honest and open representation. I practice transparent leadership. The record shows that I have held positions of respect and trust. I am a man of my word.
I possess skills for making complex and difficult decisions. I have the ability to analyze and identify problems as well as opportunities. My decisions will be based on factual information. I encourage input from affected persons and communities. I expect county staff to research and provide factual information. I also do my own research before making a decision.
I have vast experience in fiscal governance. I will remain personally accountable for taxpayer dollars.
I have a personal desire and dedication to serve the best interests of Mohave County and its citizens.
I have no "hidden agendas." I am ready to listen and ready to work. What you see is what you get.
Due to my education, business background, my public service record and respectable relationship with all levels of government leadership, I am the best-prepared and most qualified candidate to serve as your District 1 supervisor.
I will demand best management practices to conserve and protect our water supply and water quality. I believe we must protect our unique environment while maintaining a desirable quality of life for our citizens and in our communities.
Financial stability and planned, sustainable growth is essential. I will strive to create more jobs by expanding and supporting our industrial and retail base to continue building a healthy economic environment. I will work to maximize the county's resources, to stabilize the county's financial future, to provide services to county citizens that depend upon a healthy economic environment.
I have the ability, knowledge and relationships to address the state Legislature's decisions regarding our state-funded county programs. I firmly believe that we must address the problems with the state Legislature's practice of "unfunded mandates." This is the Legislature's practice of putting more responsibilities on the county while reducing those funding sources.
My background and my record prove that I am the best-qualified candidate to represent the people of Mohave County's District 1.
My ethics and practices have proven that I am the most honest candidate with the ability to govern with open, honest and transparent leadership.
Supervisor District 2
Tom Sockwell (R)
I grew up on a farm in southwestern Oklahoma. After completing high school I went into the Army and after basic training was assigned to Radio School at Fort Monmouth, NJ. Upon completion of schooling at Ft. Monmouth, I was assigned to the Alaska Communication System in Anchorage, Alaska, which is where I spent the remainder of my tour of duty. After discharge from the Army I returned to Oklahoma to farm for one year and decided I needed a new career.
I moved to California and was employed for 32 years in the aerospace industry until December of 1988, when I moved to Bullhead City.
My 32 years in aerospace was a very rewarding and interesting experience, which taught me many things. After we settled in Southern California, my wife and I owned and operated a fast food restaurant for nine years in Redondo Beach. Later, we owned and managed income property in Hawthorne.
Before and since my election to county supervisor in 2000, I have been active in service clubs and community projects. I have been involved with the Kiwanis and am still involved with the Colorado River Concert Association, the Republican Forum, which I served as president for several years, and as a member of the National Rifle Association.
I am past president of Punto de Vista Home Owners Association, was on the board of directors of Thumb Butte Water Company for a number of years, and I am currently board chairman of the Mohave Water Conservation District. I am also a member of the Mohave County Water Authority.
I am proud to say that 23 major agenda items, including: stopping the use of biosolids in Mohave Valley and the remodeling of the Superior Court Building in Bullhead City, which I presented to the Board, have been adopted, and I supported 18 other major agenda items.
I am extremely proud of what has been accomplished in Mohave County in the last seven and half years. I feel that my accomplishments during my career, as well as what I have accomplished, as a county supervisor, demonstrates without a doubt that I am extremely capable of doing the job for which I am elected. I have also brought fiscal stability to Mohave County.
I would continue to adopt a balanced budget.
I would continue with the new county jail project.
I would continue to promote other capitol improvement projects when funding becomes available.
And I would continue to promote Mohave Valley Park.
Assessor
David Smallwood (R)
I feel I am qualified because I am a believer in the rule of law and treating people fairly. The incumbent has betrayed his oath of office, which states, "I do solemnly swear (or affirm) that I will well and truly discharge the duties of assessor of the county of Mohave, and will, to the best of my knowledge and ability, "truly and fairly determine the valuation, without favor or partiality, of all the taxable property in said county at its full cash value."
I have worked in the Assessor's Office. I know all too well the fear and intimidation management style. I am qualified for this office based on leadership skills alone.
People should vote for me because I will come to work on a daily basis. I will not make unnecessary trips, and I will dress to show respect for the office I hold and the people I serve. I will respect my employees. I will improve customer service.
I will establish effective training policies and procedures. I will not sign contracts with firms outside of the United States. I will enforce the equal opportunity laws. I will ensure the equal treatment of all taxpayers. I will proactively identify and locate those who are eligible for tax freezes or exemptions benefits to reduce their tax burden.
My top three priorities when elected to office shall be:
1. I will disband and remove segments of the Chloride Clique that are, and have been, detrimental to the Mohave County taxpayer. I will establish new rules for hiring and disciplining of employees.
2. I will conduct audits of accounts. Any improprieties will be corrected and reported to the Board of Supervisors and to the people of Mohave County.
3. I will establish new policies addressing hiring, training, customer service, use of county property, enforcement of equal opportunity laws, valuation procedures and the general way people are being treated inside and outside the Assessor's Office.
Recorder
Carol Meier (R)
I have proven management skills. I have been an office manager, quality control supervisor and, for the last eight years, supervisor of the Mohave County Assessor's Office in Bullhead City. I have worked for the Mohave County Assessor's Office for 24 years, for Ada County Assessor's Office in Boise, Idaho, for four years and for the state of Arizona for three years. I have a total of 31 years of government experience and service.
By statute I work most of all the recorded documents in my present job. I would still like to serve you, the public, as your next county recorder.
I feel I would bring a world of experience to the department. I am trustworthy, dependable, reliable, responsible and accountable for my actions.
I have a good work ethic and excellent customer service skills. I am dedicated and loyal. I have a positive attitude and my current staff finds that attitude infectious. My objective is to take service to a new high. I am proud and privileged to run as your next county recorder.
1. Digital Document Recording: Enhance the viewing of recorded documents older than 1900 for clients. In the future, viewing of recorded documents via the Internet, after redacted practices are implemented.
Kim Stewart (R)
I am currently an employee of the Recorder's Office. The current recorder, Joan McCall, has known me for the 12-and-a-half years I've been with Mohave County and knows my work ethic.
She hired me from the Elections Department in 2004 to run Voter Registration with the plan to train me to succeed her when she retired.
I've spent the last two years learning about the other divisions of the department, working with the employees and training for the transition to recorder.
I am certified with the state of Arizona as an elections official and was the 314th person in the world to receive the Certified Election and Registration certification from Auburn University.
I also hold a business administration degree with a major in accounting.
I know how the department works and can see its strengths and weaknesses. I have fresh ideas for the department and have developed relationships with those employees and other department heads that will help me succeed.
The cost to the taxpayer to train an incoming recorder with no experience in the department, or any of its divisions would be very high.
Having government experience is not enough to help with this job. The county recorder is not just responsible for recording deeds and titles, but is also the designated petition officer.
This person should have experience dealing with other departments and elected officials, be well versed in state statute and laws and have experience developing legislation and the implementing of state election procedures. I have experience in all these things.
I am endorsed by Joan McCall, Mohave County recorder and Helen Purcell, Maricopa County recorder.
1. Complete the implementation of E-Recording, if it has not been finished by the time I take office. That is our number one priority, along with updating all software systems. This is done with recorder's fees at no cost to the taxpayer.
2. Implement in-house procedures to identify and report land fraud. I've become a member of a national Land Fraud Task Force and am working to help stop the problem before it hits Mohave County as hard as it's hit the larger cities.
I have an extreme aversion to this type of crime. It's a special project of mine and I've recently met with the head of the White Collar Crimes division of the FBI in Maricopa County for tips and pointers.
3. Cross training of employees. I've already begun to cross training in other divisions. We have indexers who are trained in voter registration data entry and ballot processing. With a hiring freeze in effect it is necessary to have multi-talented employees.
County Attorney
Matt Smith (R)
I believe I am qualified to be County Attorney based on my extensive experience, as I have been with the County Attorney's Office for 21 years, the last four-and-a-half as county attorney.
I have tried more than 110 felony jury trials during my time in Mohave County.
That experience enables me to pass on what I have learned to our younger prosecutors, helping insure a high level of convictions as well as trying to be fair and do justice in each individual case.
I think people should vote for me because of my experience and leadership.
I have a clear vision of what the County Attorney's Office needs to accomplish and the areas where we can improve over the next four years. I care deeply about this community, as I have lived in Mohave County for the last 21 years. I want this to be a safe community for everyone including my family.
My first priority is to aggressively recruit and retrain top notch attorneys and support staff to continue to provide the best service possible to the community, especially those victims of crime.
Secondly, I believe that we need to continue our efforts to prosecute those who commit sexual offenses that live in Colorado City, where the Colorado City Marshal's Office has done little or nothing to help protect victims of child sexual abuse.
Third, I believe we need to continue to aggressively prosecute drug cases, many of which are generated by the MAGNET task force, which our office has been a part of over the last 20 some years.
Methamphetamine is the No. 1 problem in the criminal justice system, not only because most of our violent crime is methamphetamine related, but because our children and families are being disrupted and even destroyed due to the powerful addiction brought on by methamphetamine use.
We are going to continue to do everything we can to educate our children to not even try methamphetamine one time.
We are also going to target drug dealers and try to take as many of them off the streets as we can.
School Superintendent
Mike File (R)
I hold a teacher certificate, which is the statutory requirement to hold the office, as well as a principal and superintendent's certificate.
I was a district principal and superintendent for seven years before running for the office in 1996. I have held this office for 11-and-a-half years.
The experience I gained as a principal, teacher and superintendent have given me the experience needed to assist students, teachers, administrators and the general public in dealing with school-related issues.
1. To become proficient in the new laws that are required of the position of county school superintendent.
2. Work to close the funding gap in our state as compared to other states.
3. Promote the thousands of wonderful achievements of our schools' students, teachers and communities.
Superior Court Judge Division V
Dana Hlavac (R)
I am the only candidate who has served as a private civil attorney, chief prosecutor and chief public defender. This unique perspective means that I have seen all sides of what will be before me as a judge.
I am the only candidate who has served in the U.S. military. This experience enabled me to be able to speak to all people at all different levels of education, intelligence and backgrounds with equal ability. I believe that a critical skill for a judge is to be able to effectively communicate to all persons who appear before him, without seeming to talk down to anyone, or to talk over anyone. Each approach can be equally devastating to the ability of a judge to communicate effectively.
I have an extensive business background in which I was forced to measure success by the bottom line. That will equate to my being able to watch the money that is spent, not just from my court staff and I, but also from a more systemic approach. I will be extremely cognizant of the impact of all of my decisions on the bigger picture for Mohave County as it relates to the overall concept of justice for the citizens of the county.
I have extensive trial experience. I have been involved in trials in both the state and federal courts for more than 20 years. I am a certified Trial Advocacy instructor who teaches other attorneys how to conduct trials. My abilities as an attorney earned me the recognition as the Outstanding Attorney for all of Rural Arizona in 2007 by the Arizona Attorneys for Criminal Justice.
I have a proven excellence in academic endeavors. I graduated with honors from every level of school I have attended.
I have experience in getting legislation passed and in serving on legislative committees. This demonstrates that I know how to work in a political environment to get results.
I have a proven commitment to civic leadership. I have served as president of both a state association and a county association as well as three non-profit corporations. I have also served on a citizen's advisory board, two youth-focused task forces and an anti-meth coalition.
Lastly, I have a long and flawless record of making significant systemic improvements in every position I have ever held.
I have every intention of carrying on this record as a judge. I will be tireless in my endeavor to achieve maximum efficiencies while optimizing customer satisfaction. In the case of the courts, the customer is the attorneys, the parties, the court staff and most importantly the taxpaying citizens.
I have the broadest legal experience of any candidate. I have demonstrated long-term commitment to the community I live in. I have the greatest level of proven achievements over a more-than-20-year career. I have the most comprehensive background of any candidate in the area of administrative achievements. It is my intent to transfer these general skills and knowledge to the bench to the maximum extent possible.
For any citizen seeking to elect someone who will be constantly striving to improve our judicial system, I feel I am the clear choice.
1. Bring a higher degree of organization and accountability to the courts by running Division V in a professional manner with increased efficiencies, within the guidelines and mandates of both the presiding judge and the Administrative Office of the Courts.
2. Continue to be out in public on a frequent basis, so that the public knows that I remain a citizen who cares about them and is willing to listen to their overall concerns. Obviously, this must be limited to issues and concerns which are not specific to ongoing cases or controversies to avoid improper ex parte communications with persons involved in litigation.
3. Work toward a more systemic approach to our judicial system. At as great a level as possible, encourage and support cross-jurisdictional solutions to common problems dealt with by both the courts and the community. By working with other offices, other judicial systems and other branches of government, better coordination of long and short-term goals can be achieved by ensuring coordination of priorities.
John Taylor (R)
As of this fall, I will have 25 years of legal experience, including more than 13 years as a prosecutor for Mohave County and 10 years as a judge.
Over that time, I have handled more than 100,000 criminal cases involving everything from speeding citations to first-degree murder.
I prosecuted my first murder case in 1986.
I was legal advisor to Kingman Aid to Abused People and Prosecutor of the Year for 1989-1990.
For more than 12 years, I have handled cases involving domestic relations, child custody and visitation, contracts, real estate transactions, personal injury and other torts, probate, adoptions and juvenile dependency and delinquency.
The type and quality of experience and the way I handle cases in court demonstrates that I care about our county, its safety, growth and what type of community it will be for our future. I am the only candidate with extensive judicial experience.
1. To uphold the Constitution of the United States and the state of Arizona and the laws of the land.
2. To resolve disputes and legal matters in a fair, timely, consistent and professional manner.
3. To be fair, accessible and responsive to the needs of the community.
Rick Williams (R)
I have devoted my entire legal career to serving the citizens of Mohave County.
I have worked in both the public sector and private sector. I am a trial lawyer.
In 2005 I was recognized by the State Bar of Arizona as a Certified Specialist in criminal law. I am one of three certified specialists in criminal law in the entire county.
And I am the only candidate who has received this honor.
I am dedicated to our community and care about the future of our judicial system. For the past 10 years, I have volunteered my time for organizations such as the Teen Court Program, the Boys and Girls Club of the Colorado River and the Wills for Heroes Program. I have gained a great deal of experience in both civil and criminal law.
1. I will work with Presiding Judge Randy Bartlett, other members of the judiciary and court administration to ensure that the needs of the community are met in a just and efficient manner. For instance, civil litigants typically have to wait in excess of one year for a trial date. It may be necessary to change case assignments so that Division V can handle civil cases and relieve the burden that is currently impacting the judiciary and the citizens.
2. In 2005, the Arizona Supreme Court published "Good to Great," a strategic agenda for all Arizona courts to follow to improve the administration of justice.
Many of the objectives involve implementing new technology in order to make Arizona courts more efficient and accessible.
As superior court judge of Division V, I will work with the presiding judge, the Court Administrator's Office and the Clerk of the Court to accomplish these goals.
3. It has been an honor serving the citizens of our community as an advocate. Each day of my practice I have served my clients with a strong work ethic and integrity. I will continue to serve the citizens of our community with these qualities as a judge.
Randolph Wolfson (D)
At age 58, I have been in the active practice of law since 1982. Since leaving a very busy personal injury trial practice in the Phoenix area to come to Mohave County in 1995, I have been the president and managing shareholder of the Wolfson Law Center, P.C. in Bullhead City. My experience and background are extensive and well rounded.
• Actively practiced as both a civil trial lawyer and criminal trial attorney for 26 years.
• Nominated for and a graduate of the National Litigation Academy.
• Former judge, Indiana Public Service Commission.
• Former Special Deputy Sheriff.
• Former adjunct professor: Barry University.
• Former instructor at the Indianapolis Police Academy in Municipal Law.
• Graduate of Purdue University, 1978 and Indiana School of Law in 1982.
• Christian Alliance Defense Fund Ally.
• Ordained minister for 20 years. Currently serve at Calvary Chapel.
• Current board member of the U.S. Selective Service System Arizona. Nominated by Governor Janet Napolitano and appointed by President George W. Bush.
• The only candidate for Superior Court in 2008 who has been Martindale-Hubbell Peer Review Rated under a confidential survey of members of the legal profession and judges. I have been awarded a "Very High" designation for General Ethical Standards. This denotes adherence to professional standards of conduct and ethics, reliability, diligence and other criteria relevant to the discharge of professional responsibilities. The lawyer ratings serve as an objective indicator that a lawyer has the highest ethical standards. No other candidate on the ballot has even obtained a rating.
• Listed in "Who's Who in American Law," 1989 to the present.
• Listed by "Strathmore's Who's Who," 2002 Award for Distinction, Leadership and Achievement in the profession of law.
Life experience and legal experience are the two major things the voter looks for in a judge. I am blessed with both, abundantly. It is time the voters be given a clear choice for judge. I intend to make that happen.
At age 58, I offer the voters of Mohave County the benefit of more than a quarter of a century of my own business experience, my trial litigation abilities and my personal life experiences. No other candidate in this election offers to bring such strengths to the bench.
I am a socially conservative, independent Democrat. I am the most qualified of any of those seeking the bench. I have been practicing law longer, in more courts and forums and covering more areas of law than any of my opposition candidates. I know I am not the Democrat you expected, but I think you will agree that, regardless of my party affiliation, I am a loyal American, proud of our system of justice and will jealously guard against anything that will tear down or destroy our precious way of life. I will not submit to a tyranny of the popular. Principle guides my life and virtue guides my conduct. I pledge to you my commitment to both exercise common sense and to exercise the courage to make decisions free from outside influence.
Independence, integrity, most experienced is not just my campaign's slogan. It is a testimony of my character. It is my life. I ask for your vote in the November general election.
Consider: According to the Pew Trust 2008 report, one out of every 100 Americans is either in prison or jail. America's 2.3-million inmate population is greater than the total inmate population for the rest of the world. Our state ranks in the top fifth of the nation's largest and fastest growing prison populations. For every dollar Arizona taxpayers spend for education, we spend 77 cents for prisons. Our prisons are jammed because America has fallen in love with the notion that somehow we become safer by putting more people in prison. Drug policy is a primary factor in the stark and tremendous increase in prison population.
I do not suggest that this country's tragic slide into a culture of drug use should by any means be ignored. However, when we incarcerate non-violent, low-risk drug and alcohol offenders, we succeed only in training them how to become better criminals when they get out. Although if elected I am sworn to follow and will follow mandatory sentencing laws in Arizona, I support alternative sentencing of non-violent, low-risk defendants to both reduce the prison population/spending crunch and to address what I view as the primary problems - poverty, education and addiction.
We need referral sites for job assistance and training programs to assist the ex-con to become a part of our productive society. We need programs available in our community to assist the convicted to obtain skills and training that will enable us to give them a hand up rather than a hand out when they get out of jail or prison. Intervention and outcome-focused psychiatric and psychological services need to be made available to the convict in order for our community to at least make an attempt to break the cycle of crime that is driven by addiction.
More like this story