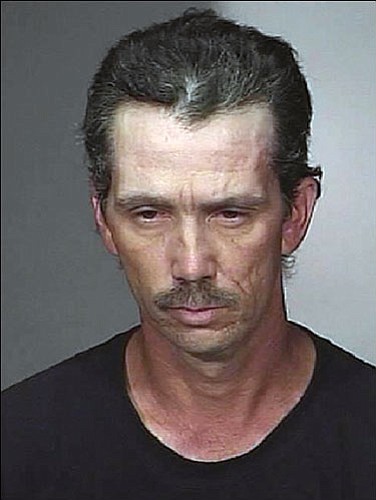 Originally Published: August 20, 2008 6 a.m.
KINGMAN - Turns out Kenneth Eugene Wallace didn't need that bus ticket to Las Vegas.
The Kingman Police Department arrested Wallace at 5 p.m. on Monday for the armed robbery of Compass Bank, Sgt. Rusty Cooper said.
Wallace, 45, of Kingman was near the Greyhound bus station in the 3200 block of east Andy Devine Avenue with a ticket to Las Vegas when police found him.
"It appears that Wallace was intending on leaving town," Cooper said.
Wallace was arrested in connection with the robbery of Compass Bank in the 3200 block of Stockton Hill Road around 3:30 p.m.
"It was reported that a male subject indicated he had a gun and demanded money," Cooper said.
No one was injured in the incident, Cooper said.
More than $1,000 was taken by the suspect, some of which was found on Wallace during his arrest, Cooper said.
Utilizing witness statements and surveillance cameras from surrounding businesses, the KPD determined the suspect ran west after the robbery.
"Investigators found clothing and other personal items hidden in a bathroom at a nearby business," Cooper said.
Witnesses identified Wallace, Cooper said. Through their statements the KPD established Wallace had gone to a residence in northern Kingman before being dropped off at the bus station, Cooper added.
Wallace was booked into the Mohave County Jail.
Justice of the Peace Rick Lambert set Wallace's bond at $75,000 during his initial appearance on Tuesday.
"I'm very sick your honor," Wallace said while sobbing. "I hear voices.
"I'm on psyche medication," he said. "I need some help."
Lambert appointed the Public Defender's Office to represent Wallace and set a preliminary hearing for 1:30 p.m. on Aug. 29.
If found guilty, Wallace faces a maximum of 12 years and six months in prison on the Class 2 felony.