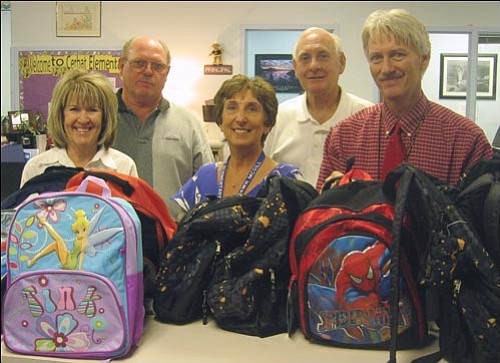 Originally Published: August 22, 2008 6 a.m.
KINGMAN - With the return of students comes the need for school supplies at Cerbat Elementary
On Wednesday, College Park Baptist Church and Mission Bank donated school supplies for the recently started school semester.
For the second consecutive year, College Park Baptist Church held a drive to raise school supplies for Cerbat Elementary. "We knew there was a need here," Pastor Denis Cronkright said. "We thought we could help."
In the six weeks leading up to the academic year, the church collected items with the theme "His heart, our hands," Cronkright said.
The church has had a tremendous response from their members, collecting more than $2,000 in school supplies - including more than 60 pairs of shoes and hundreds of backpacks.
"I just think it is awesome," Cerbat Principal Dawn McGill said of the donation. "Our budget keeps getting cut and cut. We can't afford supplies."
Beyond teachers running out of supplies in their classroom, McGill said parents contact the school requesting assistance in meeting their children's educational needs - including shoes.
The College Park Baptist Church connection with Cerbat Elementary goes beyond the drive. They also recognize a Teacher of the Year.
For the 2007-2008 academic year, the church selected fifth-grade teacher Cathy Fondren. The 2008-2009 selection was third-grade teacher Duane Nelson.
While College Park Baptist Church is in their second year of collecting supplies for the school, Mission Bank has held a school supplies drive for the past six years.
Titled "School Supplies For Bright Young Eyes," the bank raised approximately $5,000 this year. During the six-year campaign, they have raised an estimated $30,000 in school supplies and money.
While donations are accepted year-round at all Mission Bank locations, the campaign kicks into high gear from July through August.
With monetary donations, school supplies and uniform shirts are purchased for students in need. The bank donates the school supplies to schools in the Kingman Unified School District and the Kingman Academy of Learning, where school officials distribute them. "Our school supply drive is just part of our never-ending commitment to supporting education in our community," said Debbie Catt, public relations for Mission Bank.
Like College Park Baptist Church, Mission Bank does more than donate school supplies.
Mission Bank provides financial assistance to a qualified applicant pursuing the national board certification for teachers or appropriate professional development at the graduate level with the Carol King Teacher's Scholarship.