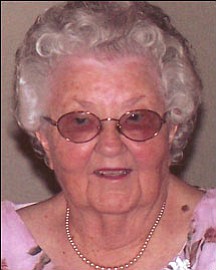 Originally Published: August 24, 2008 6 a.m.
Anna Marie Wallin, 87, of Kingman, beloved wife, mother, grandmother and great-grandmother, passed away on Saturday, Aug. 9, 2008, in Las Vegas after a short illness. She was born Jan. 14, 1921, in Wapello County, Iowa, to Roy and Elizabeth (Nanke) Humes. She was the youngest of six children.
Anna lived in Kingman for 23 years and was a past member of the Butler Sociables.
Anna was preceded in death by her parents; all of her siblings, Elsie Chandler, Paul Humes, Vaughn Humes, Lucy Blatecky and Hazel Stewart; her husband, Lyle; her son, Lyle Jr. (Budd); and son-in-law, Harvey Luttrell. She is survived by two daughters, Carol Collier and Nancy Luttrell; granddaughters, Krista King (Josh) and Jennifer Kirkpatrick (Nate); grandson, Jason Luttrell; two great-grandchildren, Michael and Meagen Kirkpatrick; sister-in-law, Eileen Humes; and many nieces and nephews.
Viewing was Friday, Aug. 22, at Arlington Mortuary Riverside, Calif., followed by a brief memorial service in Staging Area 1 at Riverside National Cemetery.
A celebration of life will be held in Kingman at a later date, and those wishing more information can contact the family at (928) 530-9468.