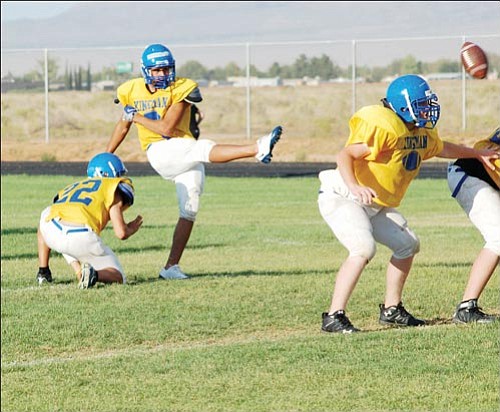 Originally Published: August 29, 2008 6 a.m.
KINGMAN - Kingman High Athletic Director Tim Casson named Jamie Nelson as the new Bulldogs' football coach on April 9, and now Bulldog fans get the opportunity at 7 p.m. today to see the changes Nelson has brought with him from UC-Davis.
The annual Blue-Gold scrimmage takes place at Lee Williams Field on the campus of White Cliffs Middle School. The renovation of the field will also be on stage with new bleachers that stretch from end zone to end zone.
Nelson said he looks forward to introducing the new offense and new defense to the team's supporters. But most importantly, it's a new outlook he wants them to see. "Hopefully they'll see a new attitude," Nelson said. "I hope they enjoy themselves and aren't critical. We're still practicing, and everyone is working hard to get better."
Nelson and his staff want to use the scrimmage to expose the team to the game-time atmosphere they will face for the next 10 Fridays. He would like to have that in place sooner rather than later. "I'm hoping that against South Mountain it won't be the first time we do things," Nelson said.
The scrimmage will also be used to set some guidelines for the team, along with the continued evaluation of players. "We want to make sure we've made the right decisions," Nelson said. "We're also going to give the JV some exposure as well."
This is Nelson's first head coaching position, and he said he is feeling stress, though it's mostly internal. "There are 10 days a year that I don't like," Nelson said. "Game days. The hay is in the barn and it's on the shoulders of the kids."
Nelson said he does realize that in high school he has to coach the kids he's given, unlike the recruiting advantage he had in college. "It's up to the kids to surpass their potential," he said.
The scrimmage, and the season as a whole, will put Nelson to the test as to how he handles the stress of his new job. However, the coach seems to be on top of his game.
"Now it's always my fault, and I have to make the right decisions," Nelson said. "I'm excited about the challenge and am looking forward to it."