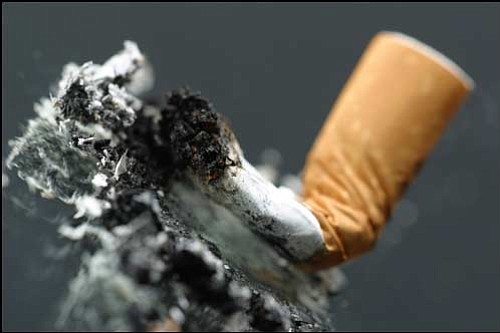 Originally Published: December 1, 2008 6 a.m.
KINGMAN - It's been more than a decade since the major tobacco companies agreed to one of the largest settlements in history, and cigarette smoking has fallen across the nation.
While the $206 billion Master Settlement Agreement happened nearly 10 years ago, adults who smoke have declined by 20 percent since 1997.
The number of U.S. adults who smoke has dropped below 20 percent for the first time, according to a report released by the U.S. Centers for Disease Control.
The reduction isn't limited to adults. According to the CDC and the U.S. Census Bureau, 5.8 million American high school students smoked in 1997. Last year, the number was 3.5 million.
"We, as a program, have increasing number of people contacting us to quit smoking," said Susan Williams, coordinator for the Mohave County Tobacco Use Prevention Program
The reductions can be tracked in data for the state.
A 2005 study conducted by the Arizona Department of Health Services found that smoking among high school students declined from 31 percent in 1997 to 20 percent in 2005.
"While any high school smokers are too many, a decline of this magnitude in Arizona and across the nation shows we are on the right track," said Arizona Attorney General Terry Goddard.
Rates for middle school students declined from 19 percent in 1997 to 8 percent in 2005.
The 2008 Arizona Criminal Justice Commission's Youth Survey and the Mohave County School Survey reflect smoking rates are declining among youth, Williams said. The same cannot said for chewing rates, she added.
Even with the decrease in rates, Mohave County youth smoke more cigarettes a day as they get older.
According to the U.S. Department of Agriculture, U.S. consumption has declined by more than 100 billion cigarettes over the past decade.
"The past 10 years have changed the way we as a society view tobacco use," Goddard noted. "Ten years ago, Joe Camel was everywhere and the Marlboro Man was a Western icon.
"One of the most important things the MSA accomplished was to change the way the tobacco companies market their products," he said. "The MSA introduced protections and restrictions that were unheard of 10 years ago."
Arizona joined 45 states and six territories in the settlement with more than 40 tobacco companies on Nov. 23, 1998.
The settlement was the result of a years-long legal battle in which attorneys general across the country filed lawsuits asking for restraints against the tobacco industry and monetary damages for state funds spent treating smoking-related illnesses. The attorneys general also accused the companies of marketing tobacco products to children and of concealing the dangers associated with tobacco use.
"This agreement was an extraordinary public health achievement for Arizona and the nation," Goddard said. "The health benefits have been enormous and will continue far into the future."
The MSA imposed changes in tobacco advertising, banned tobacco companies from targeting children, allocated funding for tobacco education efforts and provided annual payments to states based on the number of cigarettes sold in the country.
Raking in dollars
Total payments over 25 years are projected to exceed $206 billion nationally, and payments will continue as long as cigarettes are sold. Arizona alone has received $759,928,800 since the settlement was finalized in 1998.
For those wishing to stop smoking, there are local resources. The county offers McTUPP. The program uses the taxes paid on cigarettes to help people stop smoking, and teach kids to never start.
McTUPP offers quit tobacco classes at the Kingman office, 700 W. Beale St. For more information, call 753-0794.
McTUPP provides on-site presentations for businesses, schools and other organizations upon request. The program also provides training for clinicians and teachers.
There is also a support group which meets at 6:30 p.m. Monday nights at Kingman Regional Medical Center, 3269 Stockton Hill Road. Call 753-0744, ext. 4217 for information.
"I do feel that, up until this economic upheaval, that we have been seeing a decrease in numbers of people reporting that they were smoking," Williams said.
People often return to smoking because of stress, Williams said. With the current economic crisis, Williams believes smoking is seeing a recent increase.
The state has reported a recent increase in revenue from the sale of tobacco products.
Tips on quitting (Source: Mohave County Tobacco Use Prevention Program)
• Select a date and stick to it.
• Tell everyone you're going to quit.
• Put off having your first cigarette of the day and add time each day.
• Don't carry cigarettes with you.
• Make a list of why you want to quit.
• Eat healthier.
• Exercise.
• Make friends with an ex-smoker.
• Keep busy.
• Go places you can't smoke.
• Surround yourself with non-smokers.
• Clean your clothes to get rid of tobacco odor.
• Throw away all cigarettes, ashtrays and lighters.
More like this story