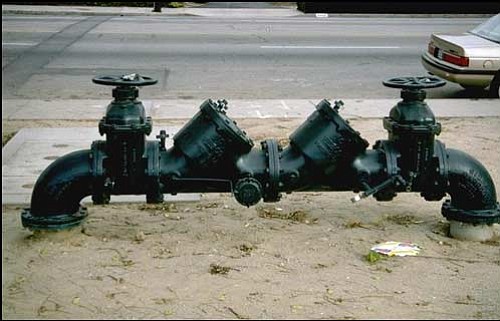 Originally Published: December 2, 2008 6 a.m.
KINGMAN - You snooze, you lose in the water business in Mohave County. The Board of Supervisors approved the termination of one water contract and the approval of a new one for the Interstate 40 Water Corridor Monday.
As part of its consent agenda, the Board terminated a contract it had to supply Enviroc Inc. 40 gallons of water per minute.
According to Arizona Corporation Commission files, the company no longer is in good standing with the commission. Its license to do business in Arizona was revoked in February 2007 because it had failed to file an annual report with the commission since 2004.
A letter from Enviroc Inc. to County Public Works Director Mike Hendrix stated the company had plans to build a 75,000-square-foot plant to manufacture concrete panels and block, and would employ about 100.
According to county documents there has been no further progress in the agreement with Enviroc Inc.
The Board approved the termination of the proposed agreement, adding the 40 gallons per minute back into the system and bringing the total amount open for allocation to 125 gallons per minute.
The Board then approved an agreement to allocate up to 125 gpm to UniSource Energy Services as a reserve source of water for the Black Mountain Energy Plant.
According to the agreement, UniSource will pay a $5,000 deposit with a $177,500 connection fee and $2.16 per 1,000 gallons used by the plant.
"We currently have sufficient water to supply electricity to Mohave County," said Thomas McKenna, vice president of engineering for UniSource Energy Services. The water would be used as a reserve in case one of the Black Mountain Energy Plant's wells went down.
"We've been working with UniSource for quite some time on this," said County Manager Ron Walker. "They made no requests of us to spend any money for them or to do anything with taxpayer money. It was certainly in our advantage to cooperate with them."
The system has a capacity for 5,750 gpm. About 5,100 gpm was allocated to Griffith Energy Plant. Another 200 gpm is allocated to the prison, 200 to Wal-Mart, 50 gpm to Fed-Ex, 30 gpm to Praxair and 15 gpm to Mohave Block.
The prison is negotiating with the county for another 26 gpm to expand its facility.
The county also has received allocation requests from WJR Consulting Services and Sirius Land Holdings.
More like this story