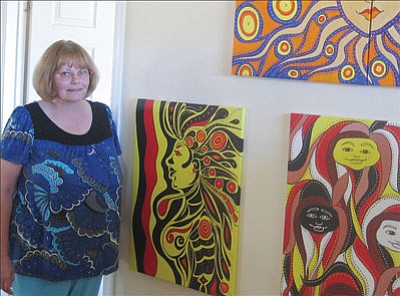 Originally Published: December 5, 2008 6 a.m.
KINGMAN - On Aug. 4, the Miner ran a story on Viola Bruning, an artist living in Golden Valley who had just completed "Adventures Into The Psyche," an art book filled with prints of her colorful, psychedelic acrylic portraits.
Tonight, the prolific artist will be in person at the Beale Street Gallery, 418 E. Beale St., for a combination book-signing and exhibition of more than 30 of her pieces, several of which were featured in the book.
The open house lasts from 7 to 9 p.m., and the exhibit will continue for the next 30 days.
"It was an interesting show to hang," said gallery owner Angela Patterson. "It kind of reminds me of stuff from the '70s."
Bruning's portraiture is typified by the use of strong, bright colors and soft, organic curves. In her art book, Bruning describes in further detail the ideas and the emotional state of mind she put into each portrait, hence the book's title.
Bruning's husband, Ken Ward, noted that the artist has already begun work on a second art book, "Adventures Into The Psyche 2," that will feature another 48 paintings.
Prints of Bruning's paintings, as well as the paintings themselves, will be on sale to the public.
For more information, call Bruning at (928) 715-9001 or the Beale Street Gallery at (928) 753-4004.