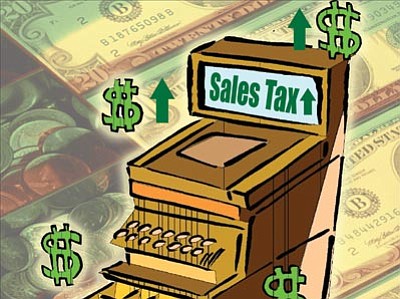 Originally Published: December 7, 2008 6 a.m.
KINGMAN - With the national economy officially in a recession and projections indicating even harder days ahead, cities and states are scrambling to stay afloat financially.
In Kingman, the situation is no different. While the city has managed to dodge deficits through extremely conservative budgeting, the City Council has acknowledged that the capital improvement projects it deems necessary simply cannot go forward without a new source of income.
It's part of the reason why Councilmembers voted at their Nov. 17 meeting to kill the process to lower transportation impact fees, despite protests from the construction community.
It's also the reason Councilman Keith Walker requested city staff provide information on how much additional revenue could be generated if Council were to entertain raising the city's sales tax. Finance Director Coral Loyd responded by providing a report at Council's Monday meeting that discussed three alternative schemes for doing so.
In the report, Loyd outlined Kingman's current sales tax rate and the revenue it generates, as well as how much more would be generated if different alternatives were adopted.
Currently, Kingman residents pay a sales tax of 2 percent, which rises to 7.85 percent when combined with the state and county sales taxes.
In the current fiscal year, Kingman's sales tax was expected to generate approximately $12 million in revenues.
Loyd provided three alternative tax raises of .25, .40 and .50 percent, which she said would generate an additional $1.5, $2.4 and $3 million in revenues, respectively.
She noted the .40 percent alternative could be broken down into .25 percent to go toward $1.5 million in the non-growth portion of the city's transportation capital improvements, while the remaining .15 percent could go to $900,000 in operation and maintenance costs for fire department coverage in the city's east bench area, which includes the future Hualapai Mountain Medical Center.
"That was just a way of taking care of the revenues to supply funds for both of those situations," Loyd said. "The alternatives that are right out here tonight are not all-inclusive, those are just some examples of considerations that Council might have."
Tax comparison
To show that such a tax increase would not be unprecedented for a city with Kingman's tax portfolio, Loyd also included data from each of Arizona's 90 cities, showing each city's sales tax rate, as well as whether they charge a primary property tax. The comparison also showed how each city received fire coverage, whether through a fire district tax, a volunteer fire program or a municipal fire department funded from city coffers.
Of those 90 cities, only 14 share Kingman's lack of a primary property tax and support of a municipal fire department. The remaining 75 cities either charge a property tax or use alternate means of providing fire protection.
Of those 14 cities that parallel Kingman's tax portfolio, only Nogales, Gilbert and Mesa pay a lower sales tax rate, while another three - Camp Verde, Show Low and Youngtown - pay the same as Kingman.
The remaining eight cities pay a higher sales tax than Kingman, from Cottonwood's 2.2 percent to the 3 percent rate shared by Guadalupe, Page and Sedona. Other such cities include Prescott Valley, Marana, Pinetop-Lakeside and Quartzsite.
Tax impact
Loyd also broke down the consumer impact of each proposed tax increase. She said that a .25 percent increase would result in a consumer paying 25 cents in additional taxes for a purchase that originally cost $100. That would rise to 40 cents under a .40 percent increase, and 50 cents under a .50 percent increase.
Council took no action on Loyd's proposals except to indicate that members would continue examining all of its options to raise revenue in advance of next year's budget discussions, which will likely begin in late January.