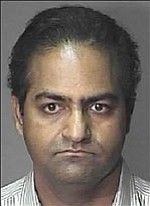 Originally Published: December 7, 2008 6 a.m.
KINGMAN - A plea agreement could be in the works for a Kingman doctor charged with 32 counts of sexual abuse and aggravated assault.
Dr. Ilangovan Govindarajan, 43, of Kingman is accused of allegedly inappropriately touching female employees.
Clark Derrick, Govindarajan's attorney, told the court Friday that Govindarajan, or Dr. Govan as he is known to his patients, had recently completed an evaluation and counseling course required by the Arizona Medical Board.
The board had required Govindarajan to take the course in order to continue practicing medicine. The board had passed the information on to the County Attorney's Office.
Derrick felt an interview between Deputy County Attorney Megan McCoy and the doctor who completed the evaluation of Govindarajan might be helpful in the possible creation of a plea agreement.
Derrick asked the court for a 60-day continuance in order to set up the interview and deal with the possible outcome.
There was also the possibility that the statute of limitations had run out on at least one of the charges against Govindarajan, Derrick said.
McCoy agreed to the interview with the doctor and the 60-day continuance.
A status hearing in the case has been set for 2:30 p.m. on Feb. 6.