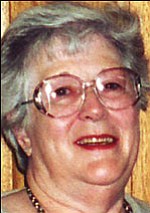 Originally Published: December 12, 2008 6 a.m.
Carolyn Ross Somer was born in San Francisco on Nov. 16, 1924, to John Springer Ross and Mae H. Borden Ross. Upon graduating from high school, she worked for the U.S. Navy as a civilian and married a sailor, W. Stuart Royster, in 1943. Together they had four children and, later in life, divorced.
Carolyn married Howard F. Somer in 1963 and had the good fortune to love five more children. After living in several states, Carolyn and Howard settled in Kingman in 1996, where they became members of Grace Lutheran Church.
On Dec. 1, 2008, Carolyn departed this earthly plane. She was preceded in death by her husband, Howard; her brother, Jack Ross; her daughter, Anne Black; and twin daughters, Sharon Sue and Karen Kay Royster.
Surviving Carolyn are daughters Sharon Patchen, Sue Herling, Lynn Pease and Susan Powell; and sons, Howard Somer Jr. and Ross Royster. Also mourning are 22 grandchildren, 37 great-grandchildren and eight great-great-grandchildren.
There will be a memorial service at a later date.