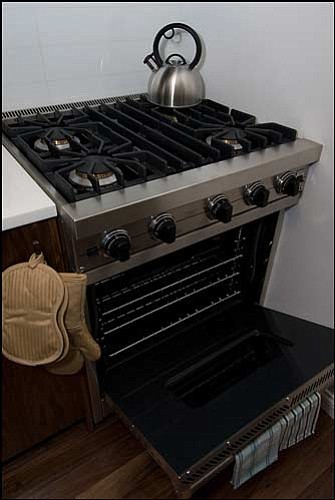 Originally Published: December 15, 2008 6 a.m.
KINGMAN - With an increase in calls for possible carbon monoxide poisoning, the Kingman Fire Department is warning the public not to use kitchen stoves or ovens to heat their home.
"As the mercury begins to dip, some families, struggling to pay their heating bills, will turn on the kitchen stove burners and the oven in an effort to take the chill off of their home," said Kingman Fire Marshal Doug Bradley in a news release. "What these families don't realize is how dangerous this practice can be. A gas oven or range top should never be used for heating."
According to the National Fire Protection Association, there is an increased risk of dying in a home fire during the winter season. December, January and February are generally the deadliest months for fire.
Beyond causing a fire, the carbon monoxide fumes could fill the home, causing poisoning, Bradley said.
Often called a silent killer, carbon monoxide is an invisible, odorless, colorless gas created when fuels such as gasoline, wood, coal, natural gas, propane, oil and methane burn incompletely. Along with stoves and ovens, Bradley said any fuel-burning heating equipment, generators and chimneys can produce carbon monoxide.
Calls for possible carbon monoxide poisoning have already started to roll in, said Kingman Fire Battalion Chief Bill Johnston. They usually happen during the morning when people wake up.
Carbon monoxide poisoning symptoms include shortness of breath, nausea, dizziness, light-headedness or headaches.
"Everyone is at risk for CO poisoning, but infants, pregnant women and people with physical conditions that limit their ability to use oxygen, such as emphysema, asthma or heart disease, can be more severely affected by low concentrations of CO than healthy adults," Bradley said. "High levels of CO can be fatal for anyone, causing death within minutes."
The goal of the KFD is to reduce the number of carbon monoxide incidents in the community and discourage anyone from using the range or oven to heat their home, Bradley said. He advised installing carbon monoxide alarms inside homes to provide early warning.
The carbon monoxide alarms, not to be confused with smoke alarms, should be tested at least once a month.
The KFD has responded to a couple of calls triggered by carbon monoxide alarms, Johnston said.
When the alarm goes off, they advised immediately moving to a fresh air location outdoors or by an open window or door and call for help. You should remain at the fresh air location until emergency personnel say it is OK, Bradley said.
The KFD also advised having your heating equipment inspected by a professional every year before cold weather sets in. Use generators outdoors away from all doors, windows and vents, Bradley said.