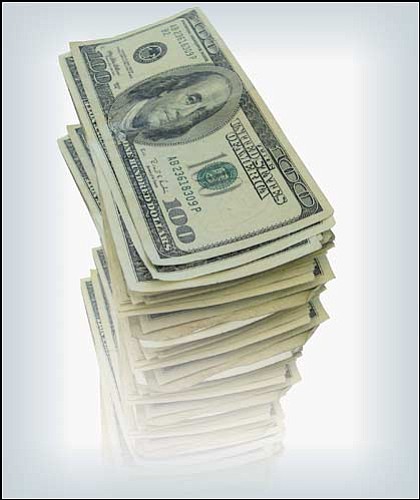 Originally Published: December 16, 2008 6 a.m.
KINGMAN - Mayor John Salem and Council members Keith Walker and Carole Young gave their views on taxes, tourism and Kingman's economic future at a meeting of the Republican Men's Club Monday at the Elks Lodge.
Salem attempted to defend recent action taken by Council to raise the city's water and wastewater monthly rates, as well as the respective development investment fees. Salem said a study submitted by Red Oak Consulting in October had shown the city was spending increasing amounts on water extraction due to rising electricity costs, and needed to up its rates to meet demand.
"It is costing the city more money to pull the water out of the ground than it did a couple of years ago," Salem said. "Our bills for utilities, for electricity, was close to $2 million, and that was up about $600,000 from the previous year. So in order for the water department to keep their books balanced, we're going to have to collect just a little more money on the water side."
The increase in wastewater fees, Salem said, were necessary to prove to the state Water Infrastructure and Finance Authority that the city was capable of raising enough money to pay back the estimated $39 million construction cost of the Hilltop Wastewater Treatment Facility. Since the Arizona Department of Environmental Quality found the city's water treatment operations failed to comply with state requirements, Salem said, the only other option for Kingman would be a complete moratorium on all new building in the city.
No choice
"This is something we really have no choice on moving forward with," Salem said. "And unfortunately our water and wastewater rates are going to go up because of that."
The same study also recommended raising the impact fee for residential water meters from $1200 to $3300, but following a workshop in late November, Salem said it was more likely that Council would seek raising the fee to only $1,800, with the remaining moneys to come from an additional $1 or $2 added to the base water rates.
Salem voiced his opposition to raising the city's sales tax, but noted that flagging state-shared sales tax revenues combined with a state legislature desperate to save money wherever possible may end up forcing the city's hand. He said vigilance, both at the city and individual level, would be important in the coming year.
Tax-friendly
"I wouldn't really want to look hard at raising sales taxes until we see what the state's going to do with our state-shared revenue," he said. "With the way that the economy is right now, I think right now we need to be as tax-friendly to the public as possible. Nobody likes to raise taxes."
Walker, who had originally asked city staff to research the revenue generated by higher sales taxes, suggested that the real impact to the average Kingman resident wouldn't be as bad as the lost business opportunities caused by leaving the impact fees at their current level or instituting a property tax.
"If we were to raise it to even 8 percent, if you spend $20,000 at Wal-Mart, that's only going to affect you about $30 a year," Walker said. "That's not a lot of money. If you buy a $40,000 car, it's about $40, $45. It's not a lot of money."
Services need funding
Walker maintained that the city had to continue providing essential services somehow. He pointed to the need for additional fire coverage in the city's east bench area, which includes the proposed Kingman Crossing interchange and the Hualapai Mountain Medical Center, and posited how the city would find the funds to staff a new fire station.
"Right now we don't have the money in the budget to put the fire personnel in that building," he said. "We cannot use impact fees to pay for the firemen. We can use impact fees to build a fire station and possibly to buy the fire trucks, but we cannot man those fire stations with that money."
Lower fees
On the issue of impact fees, Walker maintained his commitment to get them lowered, in spite of Council's decision last month to kill the fee-lowering process.
"I believe we need the impact fees and they are good for the community," he said. "The residential ones, I stated when we were campaigning, that I thought they were fair; and I still think they're fair. But the commercial ones I still feel are strangling our economy for larger businesses."
Tourism needs a boost
Young said her solution for raising more sales taxes was to increase tourism to Kingman by creating a new commission specifically for that purpose. She noted that since Kingman's share of the state-shared sales taxes is delayed by two years, it would behoove the city to bring in new revenues as fast as possible, before the revenues take an even bigger hit in 2009 and 2010.
"We need to be proactive now and come up with some initiatives on how we're going to creatively get more revenues besides raise sales taxes," she said. "With a marketing commission we could pull expertise from residents - we have a lot of resources out there, marketing resources, that could hopefully come on board and work on some initiatives."
Young said a "shop local" campaign underway in Kingman was one good way of keeping sales tax dollars within city coffers. She was hopeful to see the concept expand beyond the holiday shopping season, and she hoped a proper marketing committee would be able to achieve that.
Young also posited the idea of performing a retail analysis on the city to see which types of businesses would "fit" the best in Kingman.
Finding the right retail
"Every year the CEOs of large businesses go to Las Vegas for a retail conference," she said. "Cities around the nation go there with a retail plan to sit down with the CEOs and bring them to their city. We need to do that, and we need a group that will work on that and bring it to Council as presentation and recommendation."
Young also pushed for further development downtown to turn Kingman into more of a destination town, rather than just another stop on the way to somewhere else. She reiterated her desire to see some kind of Route 66-themed children's museum that could draw families off the highway and into town.
"I've noticed that when I've traveled with my kids in the past, when we're on vacation ... if they saw something on a billboard and said 'Stop!' - we stopped," she said. "I'd like to have somebody work on that and - maybe I'm thinking big, but you never know until you try - but to contact Pixar or Disney or somebody to see if they could partner with us."