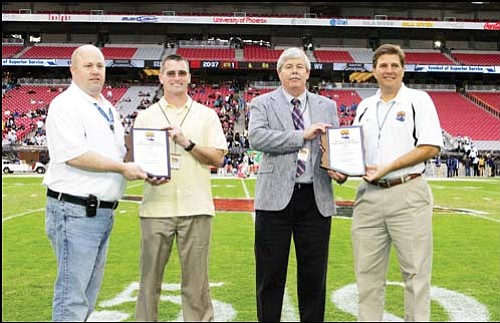 Originally Published: December 22, 2008 6 a.m.
KINGMAN - When it comes to good behavior in the Arizona Interscholastic Association Class 5A-II football programs, there's no one better than Kingman High.
KHS athletic director Tim Casson and head coach Jamie Nelson were on hand at the 5A-II state championship game between Peoria Centennial and Avondale Westview to receive the Arizona Football Officials Association's Matt O. Hanila Sportsmanship Award on Dec. 12 in Glendale.
"What's amazing about Kingman is they are from outside the valley," said Larry Kindred, chairman of the awards committee that named KHS. "It's quite an accomplishment that their evaluations came from officials in Phoenix rather than from up there."
Kindred explained the senior official and the crew working the games filled out a form evaluating the team's behavior, coaching staffs, cheerleaders, facilities and other criteria.
If there was ever an unsportsmanlike penalty reported to the AIA, that school would be instantly eliminated, Kindred said.
Casson said receiving the award showed Nelson is trying to get the kids to take on responsibility, and KHS didn't look to blame others for its mistakes and setbacks.
"It's a step in the right direction, and will help to add to the program," Casson said. "We want to build a winning program, and Jamie's trying to build it from the ground up."
The award "shows a positive reflection on the team," Nelson said. "The kids are good."
By behaving well during their games, the Bulldogs offered the officiating crews one less thing to fret about.
"The officials don't have to worry about us and can do their jobs," Nelson said. "It's nice to lead like that. Being the only team in our conference to win is a big deal."
Though the football program at KHS has struggled over the years, receiving the award acknowledges the Bulldogs in an emphatic manner. "So often kids do the right thing and it's not noticed," Casson said. "They like to say 'Hey, someone noticed that.'"
"Those guys really deserve it," Kindred said. "They are really good people."
If Hanhila's name sounds familiar, it's because he coached the KHS football team in the 1940s. Hanhila's name also graces the football stadium at Glendale Community College.
It has also been said that Hanhila's ashes were spread over KHS' old campus, which is now White Cliffs Middle School.