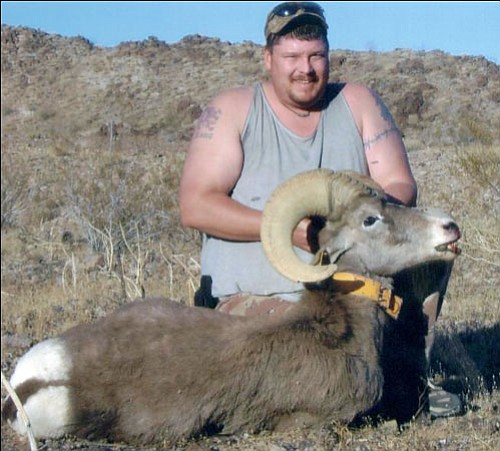 Originally Published: December 24, 2008 6 a.m.
Drawing a desert bighorn sheep tag in Mohave County is a tough thing to do.
Just ask Joe Dalmolin, who waited for 12 years before he drew a coveted sheep tag.
Dalmolin beat some huge odds this year when he drew the last of the three tags that were offered by the Arizona Game & Fish Department in game management unit 15C North, west of U.S. Route 93 from Cottonwood Road to Hoover Dam.
Dalmolin resides in Flagstaff and has a lot of local connections here. His wife Shelley's parents are Kingman residents Fred and Carol Proudfoot. Dalmolin had applied for 15C North tag at Proudfoot's behest.
After finding out that he had drawn the tag, Proudfoot said "within 15 minutes, he (Dalmolin) had called everyone in the country" to let them know about his success.
"I know that in the past there were some rams that were taken there, so I told him that would be a good unit to apply in," Proudfoot said.
With tag in hand, next came plans to scout for what would be his once-in-a-lifetime trophy.
Dalmolin is a conductor for the railroad and his schedule allowed for him and Proudfoot to spend a lot of time in the unit. With the help of his brother-in-law, Mark, who also resides in Kingman, they started making trips in October to learn the lay of the land and look for sheep.
In November, with the season just a month away, the scouting was stepped up. According to Proudfoot, a lot of sheep were spotted.
"We saw sheep on every trip," he said.
Besides ewes, a number of mature rams were seen, and as the season got closer, the hunter and his help became more focused on trying to figure out where the rams would be on opening day.
Plans called for Dalmolin to start the month-long hunt by himself, with Proudfoot coming up a day later to set up camp.
On Day 1 of the hunt, Dalmolin saw four rams in the morning and two rams in the evening. All were young, so the hunter decided to pass on them.
The next day, with Proudfoot now in camp, they started looking at an area near Willow Beach where they had seen rams before. They decided to split up to cover more area.
The method they used to hunt is commonly called spot and stalk.
"We would go 200 yards, stop and glass, then move on," Proudfoot said.
The morning hunt produced a sighting of four rams by Proudfoot, but Dalmolin didn't see any.
That afternoon, Lady Luck smiled when Dalmolin found a group of 14 sheep, including one mature ram.
Meeting up with Proudfoot, a plan for a stalk was made.
The herd fed toward the waiting hunters, and when they were just 118 yards away, Dalmolin made the decision that he would take this ram.
One shot from his 30-378 rifle and the hunt was over.
Dalmolin said the ram was the result of a lot of hard work and time spent in the field with Proudfoot and Mark.
"This is a family ram and the result of all of us working together," he said.
As required by Game & Fish rules, the ram was checked out at the Region III office in Kingman.
The ram was aged at 5 years old and scored by Game & Fish personnel at 148 7/8.
What was interesting is that the ram was wearing both a radio collar and an ear tag, No. 69.
The hunter learned the ram had been captured and tagged in 2006 near the same location where Dalmolin had taken him.
The ram was taken to a taxidermist in Flagstaff where Dalmolin is having a life-size mount done of the trophy.
There are two species of sheep in Arizona. There is the Rocky Mountain and the Desert.
Sportsmen can only take one ram of each species in a lifetime in Arizona.
The month-long season for desert bighorn sheep in Mohave County comes to a close on Dec. 31, New Year's Eve, and according to Erin Riddering, the Region III game specialist, there were still three of the 12 hunters who have not checked out.