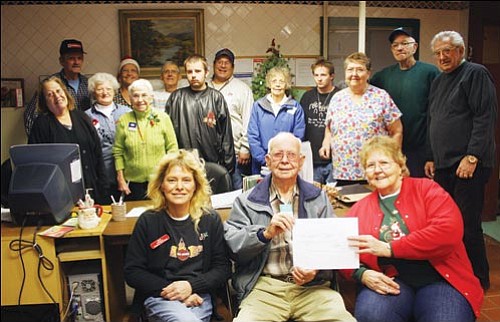 Originally Published: December 26, 2008 6 a.m.
KINGMAN - The financial weather may be frightful in Detroit these days, but that didn't stop the Chrysler Foundation from making a delightful donation to the Kingman Area Food Bank earlier this month.
Chrysler sent a check for $7,500 Dec. 9, nearly three months after the food bank had applied for a grant from the foundation, according to Executive Director Betty Kahlor. Kahlor said an official at the Chrysler proving grounds in Yucca, Susan Miller, had contacted the food bank about applying for a grant shortly after Chrysler moved into the facility.
"She contacted me and they wanted to help somebody in the community and they had heard about us," Kahlor said. "She said when they move into an area, they do some research and see who is doing the most good for the community; and she didn't say specifically why they had chosen us. They just chose us."
Miller gave Kahlor instructions for applying for help from the foundation, and Kahlor submitted the application in September, not knowing what to expect.
"I thought for a while we weren't going to get it cause we hadn't heard anything from them, but then we got a reply back," Kahlor said.
Kahlor said the $7,500 is the second-largest
single monetary donation the food bank has received all year, following a $15,000 bequest from a local resident.
"We were very, very lucky this year," she said.
The Chrysler donation will go a long way toward helping the food bank fill its many holiday food boxes this season. Kahlor said while local grocery stores do offer sizable discounts to the food bank, it still takes every cent they can manage to meet growing demand.
"We get real good bargains, in fact the old Safeway has been working with us, we worked with them a lot this past year. Whatever I buy, they can cut the bill in half," she said. "We figure that, like in our holiday boxes with the big turkeys and everything, if we had to buy all of that stuff, we would put $150 worth of food in each box for a family of four."
Located at 2930 Butler Ave., the food bank is only open from 9 a.m. to noon on Monday, Tuesday, Thursday and Friday. Despite this, and the rule that families can only receive four food boxes a year, Kahlor expects historic turnout through the holiday season, lasting into 2009.
"I don't have any totals right now, but it has increased tremendously, and it will keep increasing, we know that," she said. "Sharing is for all seasons, that's for sure."
For more information on the Kingman Area Food Bank, or to make a donation of food or money, call (928) 757-4165. Food items can be perishable or non-perishable, and pick-ups at your home or business can also be scheduled.