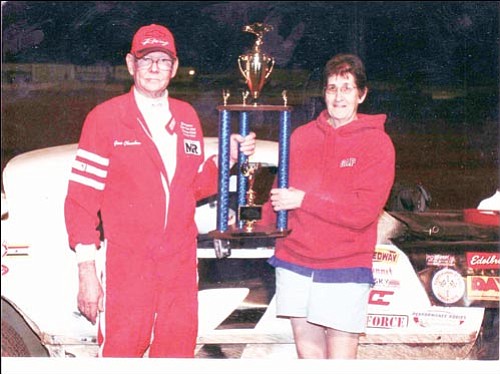 Originally Published: December 26, 2008 6 a.m.
KINGMAN - The Winter Days of Thunder 2 are getting ready to start at the Mohave Valley Raceway, and several local drivers will look to maintain and improve upon their finishes during the 2008 season at the one-third-mile clay, oval track.
Two Kingman drivers won the season championship at MVR in the 2008 season that ended in October. Lyle Scott is the 2008 Mini Sport Champion, and Gene Chambers brought home the 2008 Street Stock championship.
Scott claimed the championship with 509 points, 67 more than his closest competitor. During the season, Scott won seven races, and at one point he took the checkered flag three consecutive times.
"Basically, the vehicle and the driver merged together with a little bit of luck and a lot of support to keep the momentum going," Scott said about his year. "Once you're on a roll, you're on a roll."
Scott took second in the final race of the season, but being awarded the season's prize had special meaning for him that night. Scott's son, Nicholas, 8, is handicapped and had never been healthy enough to attend the races with his dad.
"For me to win the championship and to have him there to be part of the team and be in the picture, it made everything come together," Scott said.
The economy is taking its toll on the masses, and, unfortunately, Scott hasn't escaped from it. Scott had to sell his No. 12 truck sponsored by Cerbat Chiropractic, among many others, so he could pay some bills. Though it looked as if the 2009 season would not be in Scott's plans, he has been presented with an opportunity.
"I've been offered the chance to step in for another driver when he can't make it to some races," Scott said. "That has me pretty excited. I hope to get out there and still compete."
The best finish for local drivers in the Super Stocks division was Golden Valley's Steve Robertson. Robertson finished the year in seventh place, followed by Kingman's Doug Humphries in eighth. Tom Hepburn, Golden Valley, was 21st, and Steve Taylor of Dolan Springs also competed.
Chambers, 73, of Kingman won his fourth championship in seven years by being crowned the 2008 Street Stock champion in his No. 7 car sponsored by Tim's Automatic Transmission Rebuilders of Kingman. Chambers also won championships in 2002, 2003 and 2005.
"I just love it so much, I keep doing it," Chambers said. "It gives me something to do."
Chambers will embark on his 20th year of racing when the winter series begins on Jan. 10 at MVR. He began racing in Lake Havasu, and has been racing at MVR since it opened in 1993.
"If there had been a track available, I would have begun racing earlier," Chambers said. "For a couple of years, I raced at both tracks."
Chambers didn't miss a race at MVR until the second half of the 2007 season when he underwent liver transplant surgery. "I'm feeling great now," he said.
To come off a serious surgery as he did and win a championship, there had to be a secret for Chambers' accomplishment.
"Old age and wisdom, I guess," Chambers said.
The 73-year-old doesn't plan on slowing down anytime soon.
"I have no idea how long I'll keep doing it," he said. "Until I don't feel like it anymore, I guess."
Mark Hodges of Kingman finished in eighth place in the IMCA division. Jeffrey Sheppard of Golden Valley was 23rd, John Turner 26th, and Steve Simpson of Kingman finished 33rd for the local drivers in 2008.
More like this story