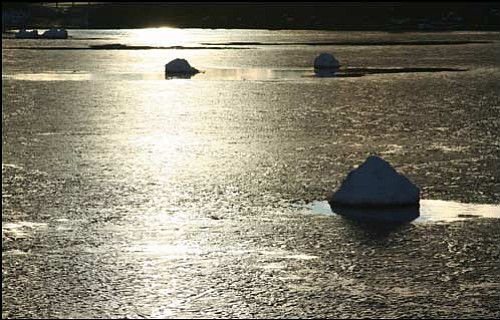 Originally Published: December 29, 2008 6 a.m.
Not only are readers still submitting photos of the rare heavy mid-December snowfall, one of them, Lacey Jones, provided the caption for her shot, shown above. It reads as follows: This is a picture straight from Alaska! Ha. I drove down the road to "The Green Hole" on the corner of Southern and Eastern near Hualapai Elementary School and took these shots. It's a runoff for rainwater, or, in this case, melted snow. Typically it's just a big grassy area that's great for soccer practice, kite flying, etc. But yesterday (Dec. 17) it was a perfect, clear opening for playing in the snow! This is where most of the kids in the neighborhood spent yesterday afternoon. The "icebergs" are what's left of their snowmen.
As for those who yearn for more typical Arizona winter weather, a warming trend is in the forecast with temperatures in the low 60s possible later this week. But if more snow falls, or if you've got a photo of something else you want to share, send it to life@kingmandailyminer.com.