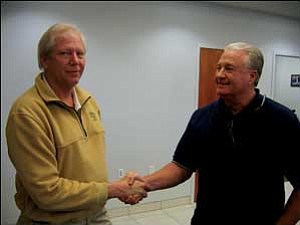 Originally Published: February 14, 2008 12:03 p.m.
Gone are the days of Scott Dunton calling Las Vegas developer Jim Rhodes a "scoundrel," as he had done so many times during public meetings over the past year.
He'd accused Rhodes of making a water grab in Mohave County, of going back door to acquire city property and of trying to take away rights from the county government while pushing for approval of his Golden Valley development project.
But in the course of an eight-hour meeting at the Kingman airport Tuesday, Dunton and Rhodes reached a settlement on a three-year-old lawsuit, shook hands and decided to let bygones be bygones.
Both parties are hoping the agreement will assuage concerns over Rhodes' master planned community, Pravada, as well as clear the slate of the embattled out-of-state developer as he moves through the process of gaining approval for the 5,000-acre project.
It took hours of negotiation before Dunton's change of heart and sudden transformation as an apparent proponent of Rhodes' development plans, but he now believes that everyone is better off.
In the lawsuit, Dunton had claimed that Rhodes hadn't held up his part of a land deal in Golden Valley, where both own - and were buying more - property. In August, a unanimous Mohave County jury ruled that Rhodes had violated the terms of a development agreement entitling Dunton to 5,187 acres and Rhodes about 1,700 acres for Pravada.
"I believe everybody deserves a second chance," Dunton said.
Rhodes has agreed to withdraw his appeal of a lawsuit and to fulfill his end of the original land deal. He also has given several assurances pertaining to water, city property and county roads.
In a prepared statement, Rhodes said he was "pleased to announce that we have reached a mutually satisfactory resolution with Scott Dunton and Mac McCallister," Dunton's partner in the deal. "We hope that the county and citizens can now focus on putting the issues of the past behind us and focus on the future and quality of life for everyone who lives, works and plays in Mohave County."
Dunton has been a critic of Rhodes since the land deal first went sour, calling him a "scoundrel" at several public meetings, accusing Rhodes' employees of trying to negotiate under-the-table deals to obtain the city-owned well sites in Golden Valley, and blasting Rhodes about lawsuits, paying off officials and for generally being less than up front about his plans in Mohave County.
"I said, 'Jim, I'm not going to say anything bad about you, but if you do anything in the future, you've got to own it,'" Dunton told the Miner.
He's willing to give his former adversary a chance to prove his merit with Pravada, a project Dunton believes will show whether or not Rhodes should get the go-ahead on other projects planned in the county. He said he'd like to see an end to the negativity, and with the land deal now settled, he'll be able to continue with plans to attract industrial businesses to his land and bring high-paying jobs to the area. At the same time, Rhodes will be able to continue his project, without the criticism, and build the first master planned community in Mohave County.
"This will be a good step forward," Dunton said. "Jim and I can approach this thing and try work together, and instead of hearing negative stuff and hearing us fighting, then at least there's a chance for some economic growth that we would concentrate on; there's a chance for residential growth that Jim would concentrate on.
"... Jim and I can both say we're sorry, sorry to the city, sorry to the county, and let's move forward and let's see if we can make this a positive situation."
If Rhodes goes about his plans in a less-than-honest way, as Dunton had formerly accused, it's likely Dunton would retain his title as Rhodes' biggest critic.
"If you screw one of my friends," he said, "I'll be the first to say something."
Dunton is confident that the county is better off now that Rhodes has agreed to dedicate enough land to allow a 60-mile-an-hour thoroughfare through the Pravada project that eventually could connect Highway 68 to Interstate 40 and the industrial corridor there.
He believes the city is in a better situation as well. Rhodes has agreed to offer to buy the city's six one-acre sites that are inside Pravada. The company also agreed to offer the city six other Golden Valley sites that are more easily accessible.
"If they come out and re-bid it with a minimum bid of $401,000 and six other well sites that they own completely, to me that would be a better deal than what they have now," Dunton said. That decision will be left to the mayor and City Council.
As part of the settlement, Dunton agreed to give up a portion of land he owns inside Pravada - land that Rhodes had cut out of the project's zoning plan. State law requires that all property owners within a master planned community give consent to the development. If the city decides to put its well sites up for sale and Rhodes is the highest bidder, the company could end up as the only property owner within the Pravada boundaries.
The zoning plan also includes a clause that the Arizona Department of Water Resources may re-evaluate housing densities if future water samples find that the resource is depleting. "They're assuring me there is a stop gap if the water does start going down," Dunton said.
It was recently revealed that Rhodes has secured thousands of acre-feet of water in Mohave County, spurring fears about a huge population surge and depletion of county water resources.
Rhodes has assured Dunton that the company would not be doing several projects at once. "I think the biggest concern that everybody's had lately is that all of a sudden 330,00 houses popped up," Dunton said, "and so if they're actually going to go down and perform at Pravada before they go after these ones in Hualapai Valley, then at least it will take some of the worry off .... I think what they really need to do is show them what they can do at Pravada."
The county Planning and Zoning Commission voted Wednesday to delay issuing a recommendation on Pravada for 60 days. Rhodes will go before the Kingman City Council again on Feb. 18. The Mohave County Board of Supervisors could give final approval in the coming months.