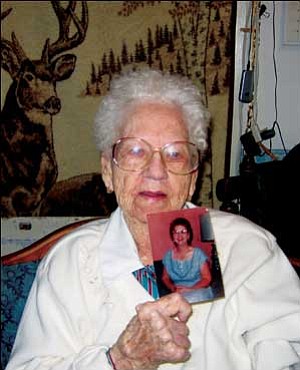 Originally Published: February 18, 2008 2:32 p.m.
Evie O. Gilbert is in remarkably good health for a woman about to turn 100, with her only significant problem being she is hard of hearing.
Asked for her secret to long life, Gilbert said, "I didn't know I had a secret."
Gene Harvey, her grandson, said she worked on a farm and picked cotton before she married Roy Allen Gilbert on Jan. 25, 1925. She was 16. He died March 18, 1979, ending a union that produced four children.
"After marrying, my grandmother split railroad ties with her husband," Harvey said. "She also was an aircraft wire mechanic for more than 18 years at McClellan Air Force Base in Sacramento, Calif."
Ruth Harvey, one of Gilbert's two surviving children (along with her sister Dorothy Curry), said her mother worked on such fabled planes as the P-38 Lightning, Boeing B-29 Superfortress and Douglas DC-3 transport at McClellan AFB.
A B-29, the Enola Gay, piloted by Col. Paul Tibbetts dropped the first atomic bomb on Hiroshima, Japan on Aug. 6, 1945. "Bockscar," another B-29, piloted by Maj. Charles Sweeney delivered a second atomic bomb on Nagasaki on Aug. 9, 1945.
That second strike brought World War II to a close with Japan's unconditional surrender Aug. 14, 1945 aboard the battleship USS Missouri anchored in Tokyo Bay.
She was born in Foreman, Ark., on Feb. 29, 1908, to John Wesley Preston and Arrie Bell Phenneger. The fifth of eight children born to the couple she is the only one still alive.
Gilbert has 10 grandchildren and 13 great grandchildren.
She'll see a sixth generation family member, as there's a baby "in the pouch" now, Gene Harvey said.
Gilbert has lived in Kingman since 1992. What she most loves when she gets out of the house is seeing the mountains, he said.
"We came from Sacramento, where there were trees and asphalt, but no mountains," Ruth Harvey said.
The family plans a birthday party at the Kathryn Heidenreich Adult Center on March 1 complete with cake and sparkling apple cider. At least 34 family members and friends had confirmed they would attend as of last week.
"Grandmother has a little nip once a year with eggnog and brandy," Gene Harvey said. "We have a bottle of brandy that has lasted her 12 years."