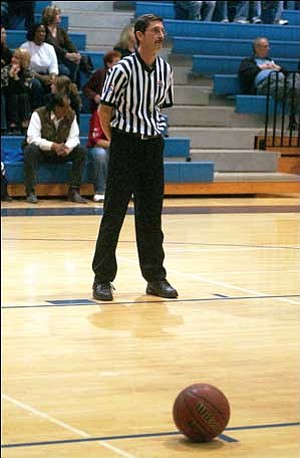 Originally Published: February 20, 2008 12:33 p.m.
If you happened to call Kingman resident Chuck Casson "Mr. Basketball," it wouldn't be a long reach to do so. Casson has been involved in the game for 34 years and it doesn't appear that he'll be letting up anytime soon.
Casson currently plays in the Parks and Recreation's C Division for Allstate Insurance - Weese Agency. His team is in first place with a 3-1 record.
Casson has been playing in the city league for 20 years, and before that he played in Flagstaff while attending school at NAU. Casson was also a three-year member of the Kingman Bulldogs from 1979-1981.
"I've been on a couple of city championship teams," Casson said. "They were with Baker Chevron and Mohave Eye Center. Both teams had the same guys on them."
It is the exercise and the camaraderie of his teammates that keeps Casson playing. And, he said, something happens during the games that keep him returning to the action.
"It used to be the drive to win," Casson said.
"Now it's like golf. If I have a good shot or play, it brings me back."
The city league courts aren't the only place where Casson can be seen running the length of the hardwood. Casson is now in his 20th season as a referee with Arizona Interscholastic Association.
Casson officiates out of the River District that includes Parker, Lake Havasu City, Bullhead City and Kingman.
Casson refereed the Anthem Boulder Creek - Tolleson girls basketball game in the first round of the Class 5A-II girls state tournament on Tuesday. Though he has been assigned the state tournament before this season, he said he has yet to officiate a championship game.
"I ref because I love the game so much," Casson said. "I love watching the kids play."
For someone with a passion for the game like Casson, there is always someone in the background who fueled the love by being influential in his development. Casson did not hesitate about putting a name to the person who was very instrumental in this part of his life.
"Gary Dykman, my varsity coach at Kingman High," Casson said. "He instilled the drive in me. He definitely influenced me with the intricacies of the game."
Dykman said that he remembered Casson as a hard worker and that nothing ever got him down.
"He was always diving on the floor and into the bleachers," Dykman said. "It was as if he was a cartoon character. He'd go crashing and then would just bounce up."
Casson said he has always felt that he didn't have a lot of talent, but he did have a lot of heart.
"I loved never wanting to give up," he said. "That helped a lot."
Casson wants to continue improving on his game, but he has accepted that he won't be getting better physically. He'll have to learn to do more by using his head.
"I want to use my noggin more," he said. "I like to get the opposing players upset by driving them crazy."
That's something Dykman also remembered about Casson, both as his coach and teammate as they played city league together.
"Not only was he a very good defensive player," Dykman said. "He's very cerebal on the court."
The next time you are at a basketball game, don't be surprised to see Casson there. That's why you can call him "Mr. Basketball."