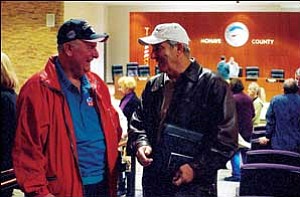 Originally Published: February 21, 2008 12:15 p.m.
It began in August with a goal to expand the number of businesses allowed in the city's "neighborhood convenience" commercial zoning law. It ended Wednesday when all of the parties involved who had worked for months to expand the current number of uses joined forces to recommend that nothing be added - that the city's zoning district remain as is.
Development Services Director Gary Jeppson called the special meeting to receive public input, and now that he has it, he will go back to the City Council and pass on the public's recommendation, he said.
The Northern Arizona Building Association and Residents Against Irresponsible Development group had worked and reworked several versions of an expanded ordinance to try and target the uses each party could agree on. After two failed attempts and several recommendations from the Planning and Zoning Commission to deny the proposed changes, leaders from the two groups approached the lectern Wednesday with the intention to settle the issue at last.
"Gary has outlined all the work that has been done in the past many, many months," NABA Chairman Chuck Sperrazza said. "Considering all that work, considering all the controversies surrounding this, considering the comments from everyone, including Council members, I believe that we should maintain the C-1 zoning as it is. It has worked for years and it doesn't require any of these major changes at this particular time."
RAID President Mike Bihuniak spoke next.
"I wanted to second what Chuck has said. Our group also feels that now is not the time to be making these major changes in C-1," he said. "We came to an agreement that we both feel not having any changes is the appropriate thing to do at this time."
Only one resident spoke in favor of the change.
"I think it's the best thing we could have done," Sperrazza said after the meeting. "Period."