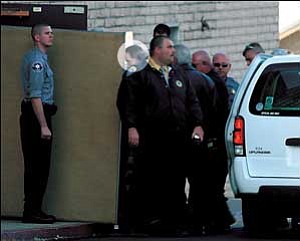 Originally Published: February 28, 2008 1:39 p.m.
Even in handcuffs, Warren Steed Jeffs held the respect of followers as they rose when he entered the courtroom for his initial appearance and arraignment.
Jeffs, 52, pleaded not guilty on Wednesday to 10 felony counts involving arranged marriages between teenage girls and adult male members of the Fundamentalist Church of Jesus Christ of Latter Day Saints.
Jeffs is facing five counts of sexual conduct with a minor, four counts of incest and one count of conspiracy to commit sexual conduct with a minor in three separate cases. The indictments charged Jeffs as an accomplice to the crimes beginning around March 28, 2002, and ending approximately Sept. 1, 2003, in Colorado City. Each charge is probation eligible or carries prison sentences ranging from nine months in prison to three years and nine months in prison.
In November, Jeffs received two sentences of five years to life on rape as an accomplice charges for his involvement in an arranged marriage between a 14-year-old girl and her 19-year-old cousin in Washington County, Utah.
If prosecutors are able to prove the Utah conviction as a prior felony, the maximum sentence would increase and probation would not be an option for Jeffs if found guilty. Mohave County Attorney Matt Smith said they will be looking for that option in the Arizona cases.
Mohave County Superior Court Judge Steven F. Conn set a case management hearing for 8:15 a.m. on March 19. Conn, who oversaw the case against Jeffs' co-defendant Randolph Joseph Barlow, will also preside over the cases against Jeffs.
Following the hearing, Jeffs' defense attorney Michael Piccarreta refused comment, saying he was going to speak to his client at the Mohave County Jail. Richard A. Wright of Las Vegas, who is serving as local counsel for Piccarreta in the case, also did not comment.
Smith spoke after the hearing to a small contingent of reporters.
"This is not about religious persecution or polygamy," Smith said. "It's about having sex with underage girls."
Smith is working with Tim Linnins, who is on special assignment from the Attorney General's Office.
Smith confirmed Piccarreta's earlier statements that the defense attorney would be seeking a change of venue. No motion had been filed for a change of venue by the time of publication.
With the cases now in the Mohave County Superior Court system, it could be six to eight months before the first trial, Smith said. The order in which each trial occurs will depend upon several factors, including the victims' willingness to prosecute.
One of the victims in the Arizona cases is Elissa Wall. Wall was a witness in Washington County's case against Jeffs.
Greg Hoole is representing Wall and another victim in the cases. Hoole earlier told the Deseret Morning News in Salt Lake City they would be prepared to cooperate in the cases.
The case against Jeffs' co-defendant was dismissed because the victim would not testify or aid in the prosecution at the time, Smith said. They will again attempt to contact her for assistance in the case.
The Miner asked Mikkel Jordahl, who served as an attorney for Candi Shapley in the Barlow case, on Wednesday if Shapley was going to assist in Jeffs' trial as the victim.
"I have no information about prosecution in a current case where she is a witness," Jordahl said.
In an Aug. 7, 2006, letter to Conn, Shapley described herself as "the supposed victim of a case that has been blown out of proportion in an effort to get Warren Jeffs."
Shapley said she felt prepared for the marriage granted by Jeffs. She added she felt pressured to testify by Smith and Gary Engels, special investigator for Mohave County, while her baby was having surgery in Salt Lake City.
"Of course I said whatever they wanted me to say," Shapley wrote. "I wanted to get it over with and be done with it.
"And of course I regretted it afterward," she added. "I never had any intention of making any trouble for anyone."
Trouble was what Shapley said she got from law enforcement, the media and the public. For that reason, and because she said she felt injustices have been done to her, Shapley asked for the case involving her as a victim should be dropped.
"The whole thing has been a nightmare," she wrote. "I want to live my life how I want to live it."
Deseret Morning News reporter Ben Winslow contributed to this article.