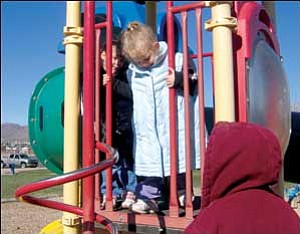 Originally Published: January 2, 2008 2:58 p.m.
Warmer daytime temperatures are expected this week in Kingman, bringing a brief respite from the cold.
"A lack of storms is finally allowing us to get more sunshine that will permit us to warm up," said Randy Cerveny, professor of geography at Arizona State University. "We'll also be getting some humidity, which will keep nighttime temperatures up."
The warming trend likely will continue into the middle of next week with temperatures 10-15 degrees higher than what they have been the last two weeks, he added.
John Salmen, a meteorologist with the National Weather Service in Las Vegas, is more skeptical as to the length of the warm up for Kingman.
"High pressure is moving over the area, so it looks like your temperatures (Tuesday) will get into the mid-50s," Salmen said.
"That should continue Wednesday and Thursday before a storm moves in Thursday night. I think there will be a lot of moisture in the form of thick clouds that will hold down heating, and you'll probably see breezy conditions through Thursday and beyond."
The forecast for Kingman, posted on the NWS Web site, called for sunny skies with a high near 47 New Year's Day. An east wind of 18-21 mph could gust to 24 early in the day before dropping back into the 9-12 mph range. Highs should remain in the upper 40s today and Thursday. Cloudy skies moving in Thursday night will bring a 20 percent chance of rain continuing through the weekend.
"We should be staying warmer than normal in what is becoming a weird winter," Cerveny said.
"There's a moderate intensity La Nina (in the eastern Pacific Ocean) with colder waters at the surface, which should mean warm and dry conditions for us. But we've been wetter and colder so far this winter, so forecasters are shaking their heads trying to figure out why."
Salmen said La Nina will aid a storm expected to bring significant precipitation at week's end into California and the Sierra Nevada Mountains. Kingman has about a 20 percent chance of rain Friday through Sunday, Salmen said. What about the chance of snow for Kingman?
"If the approaching storm develops as anticipated, you may have a small chance Sunday night into Monday," Salmen said.