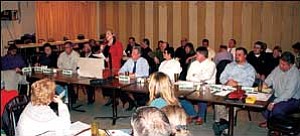 Originally Published: January 9, 2008 1:37 p.m.
All 10 candidates vying for the three seats on City Council had a chance to voice their views on a slew of city issues Tuesday night at an event hosted by the Mohave Republican Forum. Some of the more pertinent issues discussed included property and sales taxes, impact fees and traffic interchanges on Interstate 40.
After three-minute introductions, the microphone went from one candidate to the next down the table inside the Elks Club, where each person gave one-minute responses before a crowd of over 100.
Interchanges
Most candidates agreed that both Kingman Crossing and Rattlesnake Wash were needed to open up the city and bring in much-need sales tax dollars, which serve as about half of all funding for city services.
Because of this, many candidates opposed the option of giving sales tax dollars to the developer on the north side of Kingman Crossing, Vestar Development Co.
Looking at both projects, 17-year Kingman resident Carole Young said she believes Rattlesnake Wash would serve more residents, but she spent most of her response voicing opposition to a sales tax reimbursement to Vestar. Citing a report from S&Y Capital Group, a city consultant, Young noted that 350,000 square feet of retail would generate $500,000 in sales tax revenue. With 750,000 square feet, the amount Vestar has proposed at the Crossing, Vestar would bring in $1 million, she said. If Vestar were to pay property tax, it would surpass that, she said. But the company would not be paying a property tax to the city.
Todd Tarson, a Realtor and executive member of the local association believes that the interstate going through Kingman has been underutilized, and he said incoming Council members will have to work together to find ways to fund both projects if they are going to come to fruition.
"We're all going to have to work together," he said. "Right now there is no funding mechanism for either one of them beyond the ADOT five-year plan."
On the sales tax reimbursement issue, Tarson was open to the idea, clarifying that "these are not tax incentives. These are not tax giveaways. Development agreements have already happened in this town, so it's not like we're reinventing the wheel."
Council candidate Grace Ricca Runge, a lifelong Kingman resident and Safeway employee, agreed that the city needs to utilize the interstate. She said the Crossing would bring new tax revenue, not pull it from other businesses.
"Also, it would just be nice to be able to go there and shop instead of going out of town," she said. And having the two projects going means more employment, more jobs for young people.
"Lots of people are moving in here every day ... it's a lot of young people. We're not really getting that many retirees anymore," she said.
Former Residents Against Irresponsible Development member Harley Pettit's opinions have been in the community for months now: he prefers Rattlesnake Wash. For one, residents voted on it in the General Plan. Secondly, Kingman Crossing, he believes, would take sales tax revenues away from existing businesses in Kingman.
"I think the Nov. 6 ballot spoke loud and clear on the Kingman Crossing being funded by the city," he said, referring to the 60 percent majority of voters opposing two Crossing measures.
"Rattlesnake Wash has a plan and a purpose, and he have maps on that," he said.
Impact fees
Another controversial issue dating to Monica Gates time as mayor has been development impact fees, which are charged on new construction projects within city limits.
Many of the arguments Tuesday reflected past concerns about the fees being too high, about them putting Kingman out of competition with Bullhead City, Lake Havasu City and the county, and about the need for a review, reduction or possible elimination in the near future.
Candidate Keith Walker, an electrician and business owner in Kingman, said that impact fees on residential development can be absorbed, but commercial fees need to be looked at "right away."
"I think we need them," he said, "but I don't think we need them as high as they are."
Tarson was on board.
"When you hear that people are walking away from projects, well if these projects could generate sales tax revenue, then I think we need to look at it, maybe adjust them - whatever we need to do. I think we've had them long enough to know if they're a positive or a negative for the community."
Craig Schritter believes that the fees have hurt the economy and the city needs "to drastically reduce them or eliminate them."
Pettit noted how the empty commercial corridor on Bank Street between Airway Avenue and Gordon Street, stretching two miles, is a result of the fees. Candidate Travin Pennington, a local developer and long-time opponent of the fees, said the fees "need to be indefinitely and dramatically reduced."
Only candidate Ron Bahre, a two-year resident and teacher at Kingman Middle School, argued that the fees "are inevitable" in a community like Kingman. But, he said, if they drive companies away and the city loses sales tax dollars because of the fees, then the city will have to find alternatives means of funding projects - and that might include a sales tax increase or the implementation of a property tax.
Sales, property tax & bonds
Most candidates were in agreement that bonds need to be utilized and taxes shouldn't be raised.
Diverging from the majority, Runge said she is in favor of implementing a property tax.
"We did have it years ago. I don't know why people would really not want it," she said. "Their groceries are going up every day ... their utilities are going up every day. They're going up faster than the property tax is going to go up. We do need it, and I do approve it."
Noting the rise in all other costs of living, such as groceries and gas bills, she said that a property tax would not be as dramatic in its rise.
Pettit took the argument voiced late last year by RAID, that the city should utilize its bonds, but not to full capacity and not with a bunch of capital projects lumped into one ballot measure, preferring instead a list of individual projects to be voted on separately.
"I think the bigger issue here right now is we can't go to the community and ask for any more money until we rebuilt the relationship between the government and the community," Robin Gordon said. Without that trust, I don't think we have a chance of implementing a property tax."
More like this story