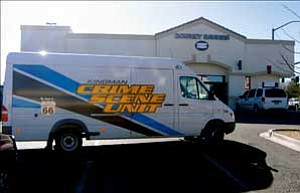 Originally Published: January 13, 2008 2:45 p.m.
For the third time since October, a Kingman bank was robbed.
The latest incident was at Downey Savings and Loan, 3240 Stockton Hill Road, on Thursday.
At 11:11 a.m., the Kingman Police Department was alerted to an armed robbery at the bank after an alarm was activated. Officers and detectives responded to the scene, however, they did not catch the suspect.
"He fled the bank, last seen running east from the area of the bank in possession of an undisclosed amount of money," Sgt. Lyman Watson said in a news release.
According to witness reports, a 6-foot to 6-foot-2-inch white male with dark hair came into the bank demanding money.
"No description of a gun was provided," Watson said.
The suspect was wearing a white ball cap, green sweatshirt or jacket, and khaki pants.
"No one was injured in the incident," Watson said.
On Nov. 21, Ben Mohabadi Iravani allegedly robbed Wells Fargo, 330 E. Beale St. He was arrested at his home 10 minutes after the KPD received the alarm.
Officers were able find Iravani at his residence in the 500 block of Silver Street by locating the taxi he used to flee the scene. Officers believe they recovered all of the undisclosed amount of cash obtained during the robbery.
On Oct. 2, an unknown man robbed Chase Bank, 3755 Stockton Hill Road. He presented a handgun and left with an unknown amount of cash.
Anyone with any information should contact the KPD at 753-2191 or Mohave Silent Witness at 753-1234.