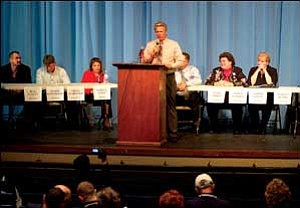 Originally Published: January 17, 2008 1:43 p.m.
Tuesday's two-hour Coalition for Intelligent Votes by Informed Citizens forum allowed mayoral and City Council candidates more time to explain their plans for Kingman.
Still, many candidates' visions, although positive and lofty, failed to incorporate concrete strategies for success.
Some more specific plans outlined by candidates included hiring a new city manager, reforming impact fees, "cutting the fat" in city departments and moving the Call to the Public back to the beginning of Council meetings.
Council candidates Craig Schritter, Carole Young, Harley Pettit and Allen Mossberg all stressed as a top priority the need to hire a city manager, with Schritter emphasizing that the new manager be conservative.
Mayoral candidate Monica Gates provided a small surprise by supporting a review of development impact fees, although it was her previous administration that implemented them.
"There's obviously a perception in the building community that impact fees are detrimental to new growth in this community," Gates said. "I pledge, as mayor, we should immediately sit down with the building community and discuss impact fees, be it revision, adding to or taking away from."
Schritter and mayoral candidate John Salem also called for the reform or abolishment of impact fees.
Cut bureaucracy
The third mayoral candidate, Bill Nugent, described Kingman's $35 million budget and the need to "dismantle" the vast bureaucratic system that has grown around it.
"The revenue source everybody talks about is the sales tax. Sixty-five percent of our main revenue source comes from other than the 28,000 people in our community. Yes, outsiders pay most of our budget. Twenty-eight thousand people do not generate a $35 million budget. We have, unfortunately, built a pretty good bureaucratic system down there with this money. Some of it needs to be dismantled.
"I've operated in several towns of this size. They do not - I repeat, do not - have 350 employees. They do not have budgets of $35 million."
Improvements
Nugent also lamented the position of the Kingman Airport outside city limits and the resulting effects on the local economy.
"If we would have had them inside the city limits over the last three years, we could have funded our entire capital improvement budgets - several million dollars," he said. "We have to level the playing field.
"They don't pay our development fees. They don't pay our building department fees. Why should there be an island that unjustly makes our city uncompetitive?"
Pettit offered a different capital improvement idea than the usual calls for interchanges at Kingman Crossing and Rattlesnake Wash.
His plan would create a railroad underpass at Louise Avenue, which was closed when the Airway Avenue underpass opened in 2006. In addition, he would like to see Old Highway 93 reach beyond its current dead end in the Rancho Santa Fe area, extending all the way to DW Ranch Road. The concept is included in the 2005 Kingman Area Transportation Study.
Council candidate Robin Gordon presented another new idea, this time in the area of increasing tourism. She pointed to the historic Camp Beale Springs, currently undeveloped, as a potential draw that could make Kingman a "destination, not just a stop."
To attract new families and retirees, Mossberg suggested pushing for the development of more master-planned communities for seniors and multiple families.
Preconceived notions
In addition to standard questions about their campaign platforms, the forum's moderator, Dave Hawkins, asked candidates to respond to any preconceived notions the public might have about their qualifications or potential conflicts of interest.
Calling it a "good question," Nugent said he would not "run" from his image as a contractor and developer and that he hopes to bring lessons learned from his past business success to the position of mayor. Gates described previous negative attacks regarding her relationship with development and other issues, stating that such attacks were "untrue, they're unfounded, and I can prove all of that."
Salem and Council candidate Ron Bahre both referred to possible attacks regarding lack of experience. Salem explained that he had been and would continue to attend seminars sponsored by the League of Arizona Cities and Towns.
Bahre focused on his duty to serve, not only in his past military experience, but also in his community. "I saw something wrong, and as a part of the community, I owe it to the community to step up to the plate and at least offer a chance at something different," he said.
For those who were unable to attend Tuesday's candidate forum, CIVIC Chairman Cullen Linn said the group soon will make the audio and video recordings of the event available at its Web site, www.iamcivic.org.