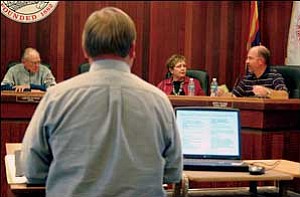 Originally Published: January 24, 2008 12:15 p.m.
City Council demanded yet another version of the hotly debated C-1 zoning ordinance after a nearly two-hour verbal battle Tuesday between members of the Northern Arizona Building Association and Residents Against Irresponsible Development.
Development Services Director Gary Jeppson presented Council with two different drafts of the proposed expansion to the C-1: Commercial, Neighborhood Convenience ordinance. Ordinance 1599-A was the version that resulted from collaboration among city staff, NABA and RAID; Ordinance 1599-B was the version recommended by the Planning and Zoning Commission.
Ordinance 1599-A adds about 40 new uses to the list of permitted or conditionally permitted uses in C-1 zoning.
Many of those uses are extracted from the C-2: Commercial, Community Business zoning ordinance, which has angered some residents and business owners.
Ordinance 1599-B includes those same uses, but each would require a conditional use permit.
Residents' responses to the proposed expansion have tended to focus on the fact that C-1 zoning is meant to act as a buffer between residential and intense commercial districts. Some business owners complain that they spent more money buying C-2 land for C-2 uses, while the expansion would allow those same uses on cheaper C-1 land.
CUPs
Nine people spoke at Tuesday's meeting concerning the proposed ordinances, with attitudes ranging from the somewhat perturbed to the visibly outraged. Several speakers, including residents V.L. Chris Christianson and Gwen Gillman, along with at least two Council members, expressed their desires either to eliminate CUPs entirely or to significantly limit their use.
Councilman Tom Spear stated his position that CUPs were overused, and Councilwoman Janet Watson wondered whether those who purchased C-1 property with the intent to ask for C-2 uses should have purchased C-2 property in the first place.
Mayor Les Byram said, "Land developers have bought property that was sold C-1, and then they start building their building - sometimes the building's virtually done - and they come here and want a change to C-2 so they can put something else in there that they knew they couldn't do to begin with.
"And that's where we've had problems. That's where lots of the neighborhoods have been upset, because the land developers and contractors have tried to change the zoning almost after the fact."
Working together
Byram said he had hoped that inviting NABA and RAID to work together on the ordinance changes would have led to a reasonable compromise to head off further disagreement between residents and builders.
Marvin Robertson, a founding member of RAID, said the proposal before the Council Tuesday did not differ much from a version shot down in a P&Z meeting several months ago. Byram retorted, "Whose fault is that?" Robertson replied, "We need input. What's presented tonight doesn't contain any. I don't think that RAID has the responsibility for being the only influence."
Spear asked Robertson whether the ordinance drafted by NABA and RAID represented his views on the issue, to which Robertson replied that RAID members "made a lot of suggestions, none of which have come through, and RAID was surprised, pretty much, to find themselves ... supporting this."
Asked whether everyone on the drafting committee "got what they wanted," Robertson said only that the committee was flawed from the start.
"When you set this up to begin with, where you're having the developer association and planning and zoning (as) the two groups that are meeting together to develop it, I don't need to be a rocket scientist to see you haven't got much public input."
Spear told Robertson that government always involves compromise. "If everybody got something and nobody got everything, I think the objectives were pretty well met," he said.
Input?
One of the committee members, Bill Delmar, who is also a member of RAID, said he had agreed to some of the items listed in the C-1 expansion, although he did not agree to the entirety of the document presented at Tuesday's meeting, implying that the document was changed after his approval.
Councilman Kerry Deering said, "I sense some negativity towards Mr. Jeppson. Do you feel that Mr. Jeppson is solely responsible for making this list and the verbiage and everything through this?"
Delmar replied, "More or less."
Deering drew laughter by saying, "I think that's somewhat unfair in the fact that I know he's been ... directed by other entities in doing this, so to single him out solely as the Darth Vader of the C-1 ordinance - I don't know if that's absolutely fair."
John Kirby, member of NABA and chairman of the drafting committee, responded to Robertson's criticism that public input was not included in the expansion process. "While I enjoyed working with Mr. Jeppson, I'm going to have to throw him under the bus here. He didn't get this out to the people.
"We're the committee that's working with the city - is that our job to publicize the meeting? We actually made the effort, called the Miner, made sure that they knew what was going on."
More required
Byram asked RAID president Mike Bihuniak if he believed another meeting to work on the ordinance would be beneficial. Bihuniak said, "We do need to work with this because, right now, there is an appearance that this thing is an accommodation to a small segment of the population in this town ... and I think there's a lot of people that haven't been made aware of this that will be negatively affected over a period of time."
Bihuniak also used his time to rail against Spear's earlier comment that some of the increased uses in the C-1 expansion were designed to make neighborhoods more walkable, therefore decreasing traffic.
"I grew up in Brooklyn, N.Y., and there's no more mixed housing than there. I mean, there was a grocery store down the floor and so forth. But, you know, you live in that environment and your whole idea of life was to work yourself out of that environment and get to where you lived in your community and you went to your shopping. Shopping wasn't next door.
"Now we're being told that the smarter thing is to put houses on top of grocery stores again. We're going back to the way we were 60 years ago in tenement buildings, and that's wrong."
Kirby defended the inclusion of mixed-use housing, saying, "That's actually ... thinking about the revitalization or the gentrification of downtown Kingman. Mixed-use housing is a perfect use for downtown."
Differences
Local contractor Gary Lawson said RAID agreed to the ordinance changes, "so I don't know why they're doing a 180." Bihuniak replied, "RAID has never been a proponent of changing the C-1. We only got in there because nobody else in the community was saying anything, and we felt that at least we could try to have some input."
Another committee and NABA member, Jim Brown, said the committee repeatedly asked RAID if they agreed with the drafted ordinance, and RAID members said they did.
He also expressed his distaste for the fact that RAID did not approach the other committee members to try to work out their differences before appearing at the Council meeting. "I feel like we were thrown under the bus. I don't think I can ever work with them again."
Following the public discussion, Watson said she thought adding so many uses to the C-1 zoning ordinance was "unconscionable," while Spear said he would prefer to see the longer list, because it specifically enumerates the permitted uses, rather than leaving decisions up to the planning staff's discretion.
Deering and Byram called for the drafting committee to reconvene once more to try to agree on the expansion. Byram said, "Both sides are going to have to give a little. They're going to have to work together. When it comes back to the Council, we're going to make a decision the next time it comes back, period - one way or the other."
A motion to that effect passed unanimously, with Councilmen Tom Carter and Ray Lyons absent. Jeppson will be required to publicize the meeting to allow interested members of the public to attend.