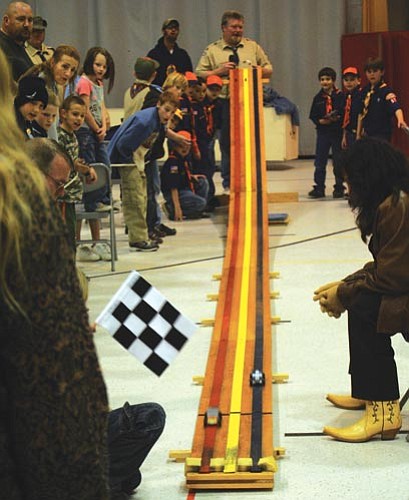 Originally Published: July 2, 2008 6 a.m.
GOLDEN VALLEY - If flying over the desert, climbing on boulders as big as houses and seeing fire-fighting equipment up close sounds better than sitting inside and playing the same old video games again and again, Scouting might just be the answer.
For boys who will be entering grades 1-5 in the fall, Cub Scouts offers entertaining and educational activities throughout the summer and year-round.
"We do something fun and interesting every month," said Cub Scout Pack 57 Leader Frank Reibling.
Pack 57 formed in late October. Since then, members and leaders have taken field trips each month, starting with a hiking trip in December to Grapevine Canyon north of Laughlin.
"It's a sacred place full of ancient petroglyphs," Reibling said.
S"The Indians in this area believe that is where they got their start here," Riebling said.
A Pinewood Derby followed in January, then a trip to the Gamby landfill, the Golden Valley fire station, airplane rides, camping at the Boy Scouts' Camp LeviLevi, participation in the flag retirement on Flag Day at the Golden Valley American Legion Post 22 and a tour of the Central Print Facility newspaper printing plant in Golden Valley the last week of June.
"Usually, it's pretty expensive to hire an airplane ride," Reibling said.
"The Experimental Aircraft Association invited us and other Cub Scout packs to their annual event at the Kingman Airport, and the kids got to fly. They loved it. It's something most of them would never get to do, otherwise."
One of Pack 57's dens meets at the American Legion hall. The others meet at leaders' homes.
During the school year, all dens meet at Black Mountain School.
"The American Legion became our chartered organization in April," Reibling said.
"Until then, the concerned parents who started the pack were just known as Friends of Pack 57."
The pack's chartered organization is responsible for choosing the pack's qualified leaders and handling fundraising. Tom Davis, Post 22 commander, also is Pack 57's chartered organization representative, and Post 22's finance officer, Mac McNamee, is the pack's financial officer, as well.
"Even before the Legion became our chartered organization, they were supporting the pack," Reibling said.
"All together, they've raised about $800 for us. They bought our American and Pack flags that were what's called parade ready. They came with the parade belts."
Four of the Cub Scouts are ready to move up to Boy Scouts, but there is no troop in Golden Valley.
"We really need some parents to step up and take our kids to the next level, into Boy Scouts," Reibling said.
"Boy Scouts are ages 11-17, in grades 6-12. They really need a troop master, and I and the other Cub Scout leaders will be happy to help get them started.
"They just need to contact one of us. They can call me at 279-0523."