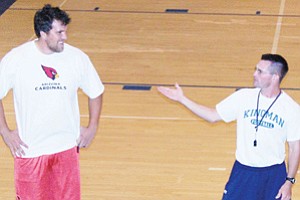 Originally Published: July 6, 2008 7 a.m.
Kingman High football coach Jamie Nelson brought in some NFL experience to assist him at the Bulldogs football camp that ended on June 27. Ejiro Evero, defensive quality control coach for the Tampa Bay Buccaneers, and Elliot Vallejo, offensive tackle for the Arizona Cardinals, came to Kingman to relate their football experiences with the Bulldogs.
Evero and Vallejo, who played at UC-Davis in Davis, Calif., during Nelson's five-year tenure with Aggies, gave inspirational speeches on June 26 when they talked to the players about motivation and what it takes to reach the next level as football players.
Evero wrapped up his speech by providing the Bulldogs one simple piece of advice. "Remember this - football is fun," Evero said.
Vallejo, who spent the 2007 season on the Cardinals' practice squad, spoke about his freshman year at Salinas, Calif., Palma High as third-string player for the Chieftains. "I just wanted to play," Vallejo said. "So I kept working hard."
No NFL dreams
Making it to the NFL wasn't on Vallejo's radar screen in the early days of his college career. "When I was a freshman in college, if someone had told me I would make it to the NFL, I would have said, 'Yeah, right. No way,'" he said.
He shared the story of his first visit to the Cardinals locker room. "Hey! That's Kurt Warner," he said he remembered saying with his hand covering his mouth.
The hard work that Vallejo put in to get from a third-stringer in high school to making it on to a NFL roster continues for the 6-foot-7-inch, 310-pound lineman. Vallejo said, in response to a question posed by Evero, that during the season he works six days a week with an optional seventh day for five months. "The harder you work makes you realize how much harder you can work," he said.
As he gave the Bulldogs a taste of life in the NFL, Vallejo wanted Kingman's players to understand that the routine in college was more difficult than in the pros. "College life was a lot tougher than the NFL," Vallejo said. "You have to worry about both school and football."
Vallejo and Evero were both very concerned about their schooling while at Davis. They wanted to be certain that they left college with more than just their football playing experience. Vallejo graduated with an engineering degree, and Evero earned a master's degree in business administration.
"Working hard is not just in football," Nelson said. "But in life as well."
There were 60 players at the Bulldogs' camp, a number that pleased Nelson. "Having 60 was the biggest surprise," Nelson said. "The guys came out, had fun and worked hard."
Because the camp was successful, Nelson hopes that the word will spread from the players at the camp to those who were not in attendance to increase the level of participation. "It seemed that the players were enjoying themselves," Nelson said "As long as everyone understands their role, shows constant growth and improvement, things will be fine."
Fired up
Seniors Andrew Thibedeau and Jonathan Oakie were at the camp. Both demonstrated a spark of excitement as they talked about the camp.
"It's been pretty fun," Thibedeau said. "We're learning a lot faster than last year. We've learned the new run offense."
Nelson said that he was able to put in eight to 10 plays to begin the installation process of the new systems for Kingman football.
"We started the run game. The motions are new, but we're getting it down," Oakie said. "I'm fired up to get back out there and win."
More like this story