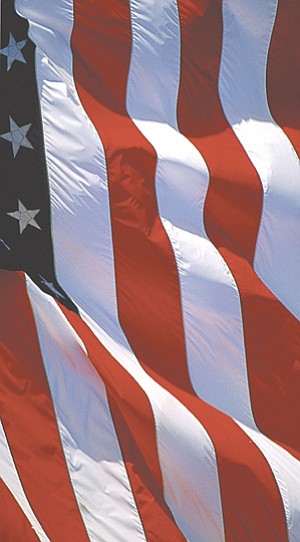 Originally Published: July 6, 2008 7 a.m.
While many took the opportunity to sleep in on Friday morning, more than a few patriotic Kingmanites attended two separate flag-raising ceremonies celebrating the nation's 232nd birthday.
The first ceremony was held by the Disabled American Veterans Auxiliary at 9 a.m. near the Veterans Complex in Centennial Park. The ceremony drew a crowd of about 50 people, among them veterans, civilians and various public officials from throughout the area. Among the attendees were Kingman Police Chief Robert DeVries, Judge John Taylor, Mayor John Salem and Vice Mayor Janet Watson.
Four members of the Mohave County Sheriff's Office Color Guard stood by as seven volunteers from the audience raised the American and Arizonan flags, as well as the third representing prisoners of war and those missing in action. Veteran and bugler Frank Koslowski was on hand to play "To the Color" for the flag raising and "Taps" at the ceremony's conclusion.
Navy vet Olivia Goglia sang a rendition of the Star Spangled Banner, and Pastor Pete Ernst of Manzanita Baptist Church gave an opening prayer thanking God for the privilege of being at Centennial Park on such a day.
"We give thanks for our liberties and freedoms that were bought and purchased with the blood, sweat and tears of those who have gone before us," Ernst said. "We greatly stand, as men and women, boys and girls, on the shoulders of those great men and women, who willingly gave up their lives in order to gain our freedoms - men and women whose character, strength and courage purchased the liberties and freedoms we now enjoy and call our own."
Salem also spoke, urging all in attendance to reexamine the words in the Pledge of Allegiance.
"We all just say these words, but I think we sort of take it for granted when we're saying them," Salem said. "We take it for granted what the meaning of those words are. For 232 years now, we've been fighting for what those words stand for."
The mayor acknowledged the sacrifice made by the nation's Founding Fathers to provide the basis of the country we live in today. He asked attendees to find some time during the day to do the same.
"Before you start your barbecue grills and you start having some fun playing by the pools and whatnot, just take a moment, if you would, and think about some of the things that our forefathers and some of the people that have fought for what we believe in and this freedom that we enjoy," Salem said.
Dori Anderson, the Kingman Unit 10 Commander for DAVA, thanked Salem for speaking and reiterated his sentiments before DAVA Chaplain Elaine Shriner gave the closing prayer.
"I'd like to thank everyone here for coming and supporting your vets as well as the current people in harm's way now," Anderson said. "Please keep them in mind all day today and every day, as they go through a lot and need our prayers and our thoughts."
Salem found himself speaking at the second flag raising less than an hour later, at the Veterans of Foreign Wars Post 10386 at 3036 John L Ave. At the behest of the VFW's former Commander Earl Hall, Salem spoke of his love of aviation, and the feeling he gets each time he flies from Arizona to Mexico.
"I gotta tell you, every time I cross the border, I get this sick feeling, like I just left my home," Salem said. "And I don't really get that back until I return home, and I cross the border coming back into the United States."
Hall also welcomed Major Josef Hatch back to America after being injured during his second tour of duty in Iraq and being awarded the Purple Heart. Hatch said he felt closer now to his military brethren than he ever had before.
"I've been a member of VFW since 2001, since my first deployment, and this means more to me, with you guys now," Hatch said. "I feel a very close kinship, and I appreciate that. I look forward to coming back again."
District 8 Senior Vice Commander Bob Wilson said he was pleased to see so many people from Kingman come out to the VFW Post to celebrate the Fourth. He said the community's positive response to returning veterans was very different from his own experiences in the Vietnam era.
"I can remember coming back from a war zone, and people waved to me, but there must have been something wrong with their hand, because the only used one finger," Wilson said, to audience laughter. "Now, it is just heartwarming to see in the various papers around Mohave County the welcome that our men and women in uniform receive when they return home. We as a populace should keep that spirit alive as long as we can."