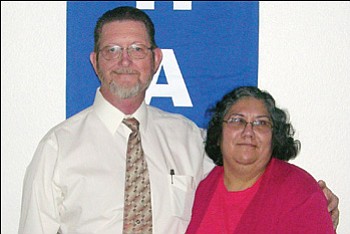 Originally Published: July 11, 2008 7 a.m.
After 59 years of service to Mohave Community College, Dan and Jan Messersmith are ready to make some history of their own. The couple has retired but still plan to be involved with the college.
"You can't put 30 years in and not miss it," Dan Messersmith said. "I'll miss all the camaraderie."
Dan will still teach some leisure studies history classes and continue his involvement with the MCC Foundation and Festival of the Arts. He also wants to help with the new bond campaign for the school this fall.
The school could really use the money from the bond, he said. The Kingman campus is basically working out of stucco covered trailers. The bond would benefit not only the school and the students but the community as well.
The Messersmiths moved to Mohave County in 1978 after living for several years in Illinois.
"It was a compromise," Dan said. Jan was originally from California and wanted to move closer to her family. Dan did not want to move to a big city area and so they chose Mohave County and MCC. "We fell in love with the area," Dan said.
And with the college, Dan signed on as financial aid/ veterans' affairs/ placement officer with the college in 1978. Jan joined the college in 1979 as the school's first switchboard operator.
When the couple first moved, MCC was seven years old and Mohave County had a population of 25,000. The Bullhead City campus was almost complete at its current site, and the Lake Havasu campus was in the Walters Building on Acoma Boulevard.
The Kingman campus was located entirely in what are now the administration offices. The population of Mohave County is now around 200,000.
"It's grown quite a bit," Dan said.
When he first started working at the school, there were less than 100 students and veterans that received aid. Now the school has more than 1,000 students that seek financial aid.
"I've worn a lot of hats," he said.
Dan started teaching history classes as a reserve faculty member in 1979. He was named director of financial aid/veterans' affairs/placement in 1985 and became director of financial aid service in 1990.
In 1996, Dan started his service as the executive director of the MCC Foundation. He still plans to play an active role in the foundation during his retirement.
While he was working as the executive director of the foundation, President Michael Tacha put him temporarily in charge of the North Mohave Campus from November 2001 to June 2002.
Dan was then asked to serve as dean of student services in July 2002. A year later he was named dean of the Kingman campus.
Then in August 2005, he was asked by President Tom Henry to open and head the new College Advancement Office.
Dan has also served on and chaired numerous committees and councils during his stay at the college.
When Dan and Jan were first hired, faculty and some administrators had to travel from campus to campus throughout the county. There wasn't enough money or people to have just one teacher or administrator to handle a specific class or job at each campus.
"The college has always been exciting and challenging. It's changed and grown. It was never the same year to year. I would do it all over again and I think it will continue to be exciting and challenging," he said. "But I've turned another page. I've really got a lot of things to do for myself and my family."
One of Dan's goals is to finish the five books he has been working on that are "in various states of undone." Most of the research for the books is done, he said. He just has to write them.
Dan is an avid historian and published "The History of Mohave County to 1912." The Board of Supervisors named him honorary Mohave County Historian in 1997.
He also looks forward to visiting his children and grandchildren.
Over the years, Jan has worked as a switchboard operator for the school, as a secretary for President Keith West, Dean George Nichols, Nursing Office Director Karen Bray, Director (now MCC registrar) John Wilson and for Denise McElwee. She has also worked in the school's nursing office, bookstore, adult education and student success center.