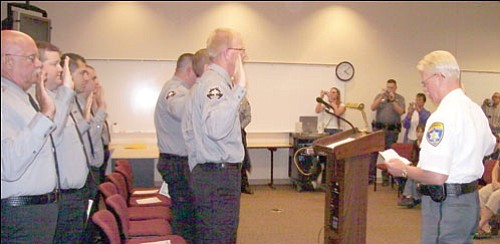 Originally Published: July 18, 2008 6 a.m.
KINGMAN - Mohave County Sheriff Tom Sheahan welcomes 19 more detention officers July 11.
The graduating class included Stacey Barrett, Christopher Boyer, Shelly Bradley, Juan Chavez, Donald Doughty, Eduardo Flores, Dustin Glasoe, Ralph Greener, Brian Gunnoe, Jennifer Richard Hernandez, Elizabeth Mahan, Hovig Meguerditchian, Tom Schuerr, John Seliquini and Shane Wilder. The next detention officer recruit test is scheduled for Aug. 11.
Anyone interested in applying should contact the Mohave County Sheriff's Office at (928) 753-0753 or (800) 522-4312.