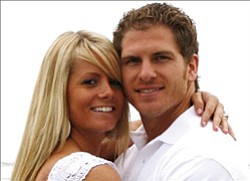 Originally Published: July 20, 2008 7 a.m.
Melissa Mullane and Kyle Von Tersch
Dr. Scott and Shawna Mullane of Kingman are pleased to announce the engagement of their daughter, Melissa, to Kyle Von Tersch, son of Geri Von Tersch, and Larry and Margaret Von Tersch of Omaha, Neb.
Melissa is a 2002 graduate of Kingman High School and a 2007 graduate of Arizona State University, where she received her bachelor's in secondary education with an emphasis in English. She is currently teaching eighth grade at Greenway Middle School.
Kyle is a 1999 graduate of Skutt Preparatory Catholic High School and a 2004 graduate from The University of Nebraska Omaha, where he received his bachelor's in public relations and advertising. He is currently working as a sales manager at Camelback Toyota located in the Phoenix area.
The couple plans to be married June 6, 2009, at the Arizona Grand Resort in Phoenix.