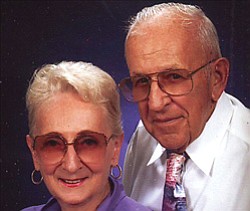 Originally Published: July 20, 2008 7 a.m.
Peter and Anna May Gorski
Mr. and Mrs. Peter (Anna May) Gorski of Chloride, formerly of Erie, Pa., celebrated their 60th Wedding Anniversary on May 22, 2008. Mr. Gorski married the former Anna May Gorr on May 22, 1948, at Holy Trinity Catholic Church in Erie.
He is retired from Nevada Power Company in Las Vegas, where he was claims manager. She retired from Elgin Electronics in Waterford, Pa.
They have one daughter, Sharon Teagarden, who lives in Boulder City, Nev., with her husband, Robyn Brohard.