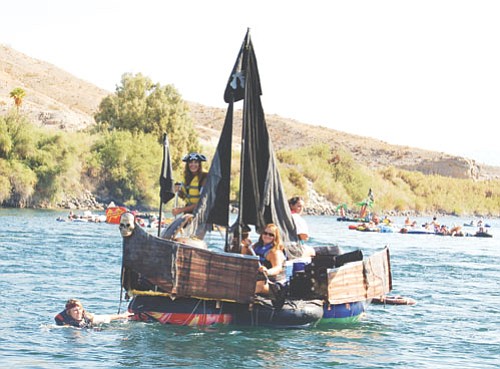 Originally Published: July 21, 2008 6 a.m.
BULLHEAD CITY - Bullhead residents are in a daze over a recent award the city received.
The first Bullhead City Regatta, "Tropical Daze on the Colorado," beat out 104 other entries to win the 2008 Community or Neighborhood Special Events award from the Arizona Parks and Recreation Awards Committee.
Mayor Jack Hakim and Bullhead City Recreation Supervisor Ed Catalfamo will accept the award on Aug. 27 in Scottsdale.
The regatta was held in August 2007 and was started when Hakim suggested the city create an event around the Colorado River.
Around 900 people participated in the event last year, lazily drifting down the river in floats with grass huts, palm trees and hammocks.
An 11-mile race for kayaks and canoes was also held.
The city is bringing the regatta back for a second year. This year's theme is "Pirates of the Colorado." A pre-registration party will be held on Aug. 15, and the regatta will be held on Aug. 16. Water games, food, beverages and entertainment will be available after the regatta.
For more information, visit www.bullheadcity.com or contact Bullhead City Recreation at (928) 763-0158.