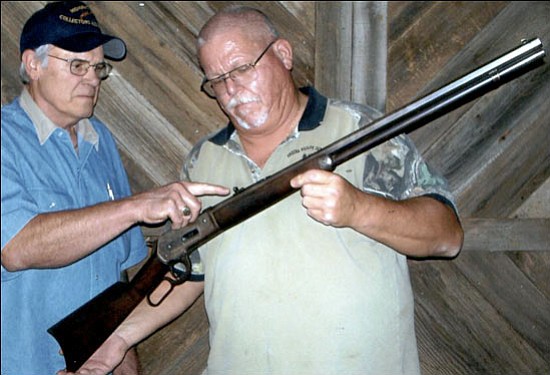 Originally Published: July 30, 2008 9:19 a.m.
I'll bet that there are a lot of gun owners in the community who have one or more old firearms in their guns safes and they have no idea what the values are.
If you do, and you want to know the history and value of your firearm collection, then you might want to join a group called the Mohave Arms Collectors Association.
New members wanted
The group has been together for more than two years and is always seeking new members to join with them in sharing information on different firearms.
According to club Vice President Keith Gilbert, who can be reached at (928) 681-4476, the group is comprised of gun owners who have a mutual interest in firearms, both new and old.
The group meets on the last Thursday of every month in the clubhouse at the Mohave Sportsman Club's 7 Mile Hill Range. The meeting starts at 6:30 p.m.
The first hour of the meeting is comprised of what MACA member Lon Carroll calls the camaraderie time period. This is when members can talk about buying, selling, or trading firearms and supplies.
Then after the Pledge of Allegiance, the group gets down to the business at hand.
The MACA then enjoys what they call the "show and tell" portion of the meeting.
Gilbert noted that members can bring in firearms to show to the other members, and can ascertain the history and value of the guns.
The MACA has applied for affiliation with the National Rifle Association, and many of their members are NRA and Mohave Sportsman Club members.
The group is also involved in local community activities, including the Mohave Sportsman Club's Kids Fishing Day event and having a real presence at local gun shows.
Recently, I was invited to attend a meeting and to bring out a firearm to be viewed by the group.
The old Winchester
One of my relatives owns an old Winchester model 1886 lever action rifle in 38/56 caliber.
They had no idea of the value of the firearm.
What I learned is that the rifle was manufactured in 1891 and depending on the collector, had a value of between $1,600 and $3,000.
Without the expertise of the MACA members, we would have never known the real value of this historic firearm.
The cost to join this collector's group is very reasonable, with annual dues of just $20 for a single membership or $30 for family.
To learn more about the group, call Gilbert or President Jerry Haworth at 928-764-1739.