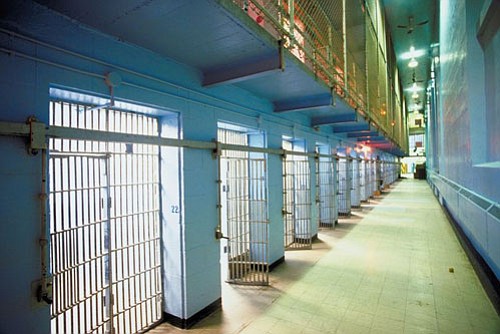 Originally Published: June 3, 2008 6 a.m.
KINGMAN - Two requests that would've paved the way for another prison project in Dolan Springs were put on death row by the Board of Supervisors at their meeting Monday morning.
Supervisors voted to deny a general plan amendment and rezone of land west of Highway 93 between Fifth and Seventh streets in Dolan Springs from A-R/36A (Agricultural-Residential/Thirty-six Acre Minimum Lot Size) to M (general manufacturing). The rezone, which would've allowed for a potential prison to be built on the land, met with strong public opposition, as it had when it went before Planning and Zoning May 14.
Mark Sippel, an attorney representing local landowner William Bonano, reiterated his earlier point made at P&Z that the proposed prison site was incompatible with the Highway 93 Corridor Area Plan, especially its scenic highway designations. He also noted that the proposal to build a prison was entirely speculative.
"There's no state contract, no federal contract, we've not heard of a private contractor in the wings," Sippel said. "Mohave County just can't afford 'well, let's rezone it, and they'll come.' This is no field of dreams here."
Golden Valley resident Susan Bayer echoed this, saying she believed the Highway 93 Plan would give Mohave County the chance to "put its best foot forward," and that a prison in Dolan Springs would spoil an otherwise golden opportunity.
"No one wants to see inmates in orange jumpsuits that close to a road," Bayer said. "Who would want to stop anywhere near that?"
Dolan Springs resident John Ford cited concerns with the amount of water a prison would use, whereas with the 93 Corridor Plan in place, residents would have the opportunity of choosing which industries make it in and which don't.
"The people out there just don't want it," Ford said. "We've said no, we'll say no again, and we'll say no again."
Byers noted the earlier request made by the landowners to build a prison on the opposite side of Highway 93, turned down by the Board in February. He agreed that the new request was speculative, and on those grounds made the motion to approve P&Z's denial.
"This is coming back, we've already turned one down, and immediately they're coming back with another one," he said. "They don't have a contract. If they'd have had a contract, and could've done some things for the community in return, that might've been a different thing."