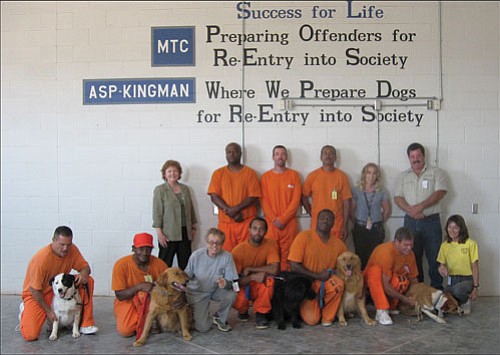 Originally Published: June 4, 2008 6 a.m.
KINGMAN - Who could understand the hard life of an abandoned pet better then someone doing hard time?
Mohave Companion Animal Rescue Efforts Network has teamed up with Management and Training Corporation, the operator of the Kingman Prison, to continue the prisoner dog-training program.
Roy Hayes, CARE-Net co-president and animal trainer, is helping 10 inmates to train five dogs from the county animal shelter in Kingman, sponsored by For the Luv of Paws and Help Animals Live Today.
The idea behind the program is to save dogs from being euthanized at the county animal shelter. Each new class of dogs will be chosen from those closest to death row, Hayes said.
The dogs will then stay at RUFF, For the Luv of Paws or HALT for two months while the organizations evaluate the dogs.
Then the dogs will be paired with two prisoners and the training will begin.
Each dog goes through an eight-week training process where it spends each day, almost all day, with its two prisoner trainers, he said.
The only time the prisoners and the dogs are separated is during meal times.
The prisoners also have to keep a daily log of the dog's behavior, eating habits and training. This later helps CARE-Net match the dogs with the perfect owners.
At the end of the eight weeks, the dogs will be placed up for adoption at HALT and For Luv of Paws, he said. Residents interested in adopting one of the dogs will have to fill out an application and then go through a screening process.
Any dogs that are not adopted will be transferred to the Western Arizona Humane Society in Lake Havasu City.
Hayes said it was MTC and the prison that first approached CARE-Net. The prison previously had a prisoner dog-training program and they wanted to expand it.
Hayes said, within five to six weeks, CARE-Net and MTC had the program up and running with the first five dogs.
"We're very excited," he said. "The dogs are doing very well."
They plan to add another five dogs to the program in another six weeks and hopefully have 20 dogs in the program at any one time by the end of the year.
They also hope to eventually extend the program beyond the Kingman Animal Shelter to all of the animal shelters in the county.
CARE-Net and MTC plan to hold an open house in the next few weeks at the prison to let residents interested in adopting the dogs meet them.