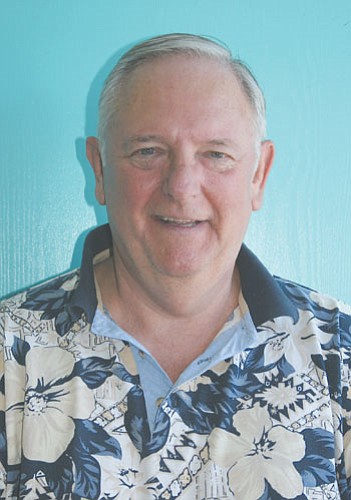 Originally Published: June 11, 2008 6 a.m.
KINGMAN - It seems the changing of the guard comes in pairs.
A week after four new elected officials took their seats on the seven-member City Council, local watchdog group Residents Against Irresponsible Development announced its own leadership adjustment.
Mike Bihuniak has been president of RAID for nearly two years, since its inception. After two successful referendum petitions against Council votes, various negotiations with builders on rezone issues and numerous other stances taken on local development cases, the retiree and 10-year resident is handing over the reins.
"I think we've achieved some really good things," Bihuniak said in an interview this week.
"We've helped put a spotlight on City Hall, and we now have a new group in there that has promised us open and honest government, which is what we've wanted from the beginning."
With the recent election of a new mayor and three City Council members, RAID hopes its involvement in city affairs will diminish.
"We'll be vigilant, but our hope is that with all of the things that they've said in the campaigns ... RAID would be an observer for the most part and not have to get involved in the most of the controversial issues.
"But we'll still be there," he said, "just to watch and see what's going on."
Taking over for the group is Kingman resident Harley Pettit, a founding member and former candidate who was eliminated from the Council race during the March primary.
"I think Harley is really going to do a great job," Bihuniak said. And in a separate interview, Pettit said of Bihuniak: "Mike's shoes are going to be awful big to fill.
"I think it's going to be quite a bit to live up to," he said, but added, "I don't see giant changes in our vision, just a change in leadership."
Since the fall of 2006, RAID's goals have been to keep a spotlight on the mayor and Council, to keep residents informed about growth-related city business and to question officials on issues that affect Kingman.
Growth has been a constantly evolving and often controversial topic within the community. RAID has held city officials accountable on several occasions. More than a year ago now, members of the group did their own research on several undeveloped well sites in Golden Valley and proved that the city manager's information about the accessibility and value of the sites were severely understated.
In May 2007, RAID challenged a major plan amendment to the General Plan that would have allowed the city to eventually rezone approximately 168 acres at the proposed Kingman Crossing site, 1.5 miles east of Andy Devine Avenue on Interstate 40.
The city failed to meet its own criteria for amending the General Plan, and as a result was unable to provide information about the impacts on traffic in the area, business within the city and several other factors that were required by the city's ordinance.
The referendum petition opposing the 5-2 Council vote was successful. In November of 2007, voters overturned the decision with a 60-percent majority.
But most of the time, RAID's involvement is restricted to rezones to locations inside residential areas. The majority of these cases propose to increase uses allowed on commercial property inside neighborhoods.
Most recently, the group - at the direction of Council - negotiated a rezone proposal with property owners of an Airway Avenue and North Castle Rock Road site. By doing so, the city avoided what initially looked to be another referendum and ballot election.
RAID met with property owners and city staff to go line by line through the C-2, "community commercial" zoning ordinance. They eliminated business uses, such as tattoo parlors and motels, that both sides agreed did not belong in the area. And with the negotiations, Council granted the rezone that otherwise could have been held up another six months and put on the November ballot; it costs the city about $25,000 to run an election.
"We organized mostly so that people wouldn't be ignored anymore," Pettit said. "We'd go to Council meetings and they'd say, 'OK,' then do whatever they wanted."
People started responding to the group because they were tired of being ignored and pushed aside, Pettit said. "We're actually doing what the elected officials are supposed to be doing - that is to listen to the people."
Once a concern is voiced, committee members meet and discuss the validity of the issues. If members agree, they go on their own fact-finding missions and report to Council what the concerns are and how they might be mitigated.
Several critics of RAID have stated that developers - so long as they're going through the appropriate city channels - should not have to meet privately with residents to get a rezone approved.
Arguments have been made that RAID members are not elected officials, that their concerns are unwarranted, that the group has an agenda, and that the interventions hurt local development.
But for the members, it's the residents approaching RAID who need a voice, and the majority of cases that RAID opposes stem from the locals asking for assistance in addressing the city.
Pettit pointed out that RAID also speaks in favor of rezone cases, such as the request on Rutherford Drive last year and, most recently, the hospital planned at Kingman Crossing North - development cases city officials at the time weren't whole-heartedly backing.
"We've supported Realtors and property owners as well as residents," Pettit said.
"Some people don't want to understand that we don't take up every agenda item. We take up issues the public supports," he said.
"Nothing's going to change," the new president assured. "Things will continue to be case by case. We don't go looking for a fight, but if we think things need to be taken up, then we will."
Having campaigned with the new mayor and three new Council members, Pettit said he is hopeful that some of the issues of the past won't be repeated.
The last two months, RAID has been hosting town hall meetings to introduce the new mayor and Council members. In coming months, the group will continue to bring to light issues that have been convoluted or misunderstood and discuss the topics with qualified, credible speakers.
The Kingman Crossing traffic interchange and commercial development project is one possible topic for coming meetings. Others may include city sewer and water systems, annexation and watershed issues.
Contact the group at KingmanRAID@yahoo.com.