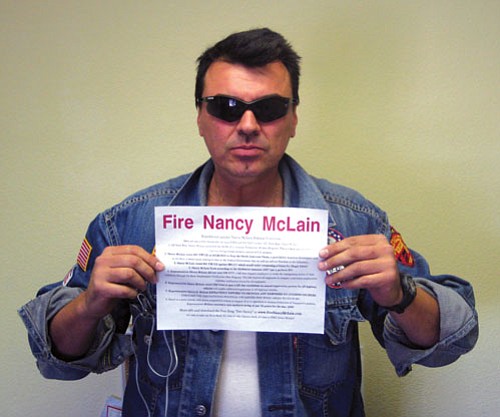 Originally Published: June 11, 2008 6 a.m.
GOLDEN VALLEY - Luca Zanna is a registered Republican. But he's quick to add, "I never married the party."
The Italian-born Golden Valley resident said that when he became a United States citizen 10 years ago, "I pledged to the country, not the party."
It's this attitude that led the Mohave County Minuteman leader to create a new Political Action Committee aimed at destroying all chances of re-election for one member of the Arizona House of Representatives.
The purpose of "Republicans Against Nancy McLain," Zanna said, is to put a spotlight on the Mohave County representative's voting record.
"It's not personal. What I looked at is what is good for the state," he said.
On his Web site, MohaveMinutemen.com, there is a link to a "Fire Nancy McLain" page, which provides a list of reasons he and the 20 members of his new group believe McLain does not deserve re-election this November.
One bill mentioned is House Concurrent Memorial 2003, which urged the president and Congress to act in the best interests of the United States, its citizens and its sovereignty.
More specifically, "not to enter into construction of a North American Free Trade Agreement superhighway system or a union with Mexico and Canada."
McLain, who was in the minority, opposed this bill.
Trish Groe, another Mohave County House representative, of Lake Havasu, supported it.
"HCM 2003, which they claim would stop the NAU, would have done no such thing," McLain said in a phone interview last week. "It was simply a postcard to Congress asking that they get us out of the 'prosperity and partnership' and asks not to enter into the North American Union."
"This group thinks that by voting no on HCM, it means that I'm in favor of the NAU, which I'm not," she added. "I don't think that's anything that the United States should get involved in."
Memorials such as HCM 2003 are legislative requests, usually to the president or Congress, that petition the recipient to act on an issue the state Legislature doesn't have jurisdiction to act upon itself, according to the Arizona State University law library.
They have no force or effect, McLain said, and she has stated before that their recipients simply disregard the letters.
As a matter of principle, McLain said she routinely votes against HCMs. "I think they're a waste of time," she said. For example, the House once asked the Turkish government "to treat their Greek citizens more kindly," McLain said. "I don't think that's something the Arizona House of Representatives needs to concern itself with."
With a mounting budget crisis and other state problems more worthy of officials' attention, McLain believes on principle these letters to Congress should cease.
In fact, she's been lobbying with some success to get other representatives to routinely vote against HCMs "in hopes that we can stop these, stop wasting our time," she said.
McLain did, however, support at least one HCM, and it is another bone of contention for Zanna.
McLain was one of more than a dozen state representatives and senators to issue HCM 2012, "Urging the Congress of the United States to enact federal legislature authorizing the state of Arizona to implement the Arizona Temporary Worker Program," according to the bill.
"This is a back-door attempt to continue hiring foreign workers instead of U.S. workers," Zanna claims.
McLain has also expressed reservations about the Employer Sanctions legislation that punishes employers for hiring illegal immigrants and requires that all employees be screened for citizenship. On her Web site, McLain states, "I'm an employer myself. I don't believe that I should act as an immigration enforcer, nor do I believe that I am qualified as a document expert." She does, however, support a nationwide authorized-to-work card for immigrants.
There was one bill McLain mentioned specifically where the results of Zanna's findings were false - although not technically, she said. House Bill 2577 in 2006 was immigration reform legislation that would have required employers to verify their employees' citizenship. (A similar bill was passed last year.)
On the third hearing of the bill, McLain was not in attendance.
"I'm unable to determine why I wasn't present for the vote, but it was slightly amended to the Senate, and when it came back I was a yes vote on that," she clarified.
According to state records, she did vote in favor of the bill, which was vetoed by the governor in mid-2006.
Another vote that raised the ire of Zanna and his group, SB 1157, would have made it a felony to cross the border into the United States. Gov. Janet Napolitano vetoed this legislation as well, and McLain openly declared her opposition to the proposal.
"I thought it was unconstitutional. I thought it was unimplementable," she said.
Zanna and his group's list of contentions with McLain is long, and her explanations do not always meet their standards, McLain said.
"Republicans Against Nancy McLain" members aren't always willing to listen to her views, she said. "I think I have a valid reason why I voted against HCM 2003, and what really irritated me was when I got e-mails that said I was a traitor and that I didn't care about the sovereignty of the United States," she said, adding that one person commented that she should be shot for treason. "The e-mails got a little bit out of control."
Zanna denies using any "unlawful language" in e-mails sent to McLain - e-mails which he provided to the Gazette to review. "If she really has death threat e-mails, she should go to the sheriff and file a complaint," he said. "Nobody in our grassroots group advocate violence."
"I just didn't appreciate their tactics in some of the things they said," McLain said. "I responded to every person who sent me an e-mail that said I was a lousy representative and I wasn't representing them. They were very small but a very vocal group." She said later in the interview, "There are a few who simply don't want to listen to any rationality."
In an e-mail later in the week, McLain said she would not share the threatening e-mails, most of which she had deleted already. "I didn't take them literally, and I don't think there was an actual threat of direct action," she wrote.
Zanna is raising money for advertising and flier campaigns against McLain. Learn more at MohaveMinutemen.com/FireNancyMcLain.htm.
To contact McLain, call toll free (800) 352-8404, e-mail her at nmclain@azleg.gov or visit NancyMcLain.com.