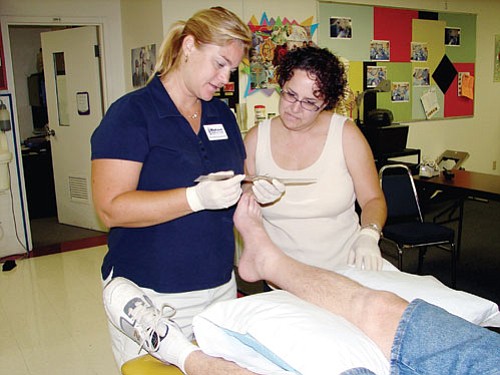 Originally Published: June 13, 2008 6 a.m.
KINGMAN - The inaugural physical therapist assistant class at Mohave Community College will begin this fall.
MCC is accepting enrollment for the class on the Lake Havasu City campus.
Physical therapist assistant is a two-year integrated program providing all classes needed to achieve the associate of applied science degree. The full-time day-class format will educate students who will work under the supervision of a licensed physical therapist.
"The U.S. Department of Labor expects the demand for physical therapist assistants to increase by 29 percent between 2006 and 2016," MCC Chancellor Michael Kearns said in a news release. "This program will help our students qualify for a high-demand job and assist therapists in meeting their communities' needs by providing highly qualified assistants."
To apply to the program, a student must be eligible to take English 101 and Math 121. There are no other pre-requisites.
Anyone interested in applying to the program will need to submit their application to Program Director Rhonda Schnabl by July 10. She can be contacted at (928) 505-3351 or physicaltherapistassistant@mohave.edu.
Schnabl recommends that students seriously interested in the PTA career observe physical therapy from an inpatient and outpatient perspective before applying.
"Students who have performed the observational hours found it valuable, as it was an eye-opening experience and broadened their view of what they could be doing while employed as a PTA" Schnabl said.
Graduates can expect to provide care to patients suffering from injury or disease that results in a loss of motion within a joint, weakness, pain, wounds, abnormal walking patterns and general debility.
The program is currently progressing through the stages of accreditation. Final accreditation, granted by the Commission on Accreditation for Physical Therapy Education, will not be determined until April 2010.
Carrie Perkins, a licensed PTA, will be joining the faculty July 7. One of her responsibilities will be to coordinate the clinical education portion of the curriculum.