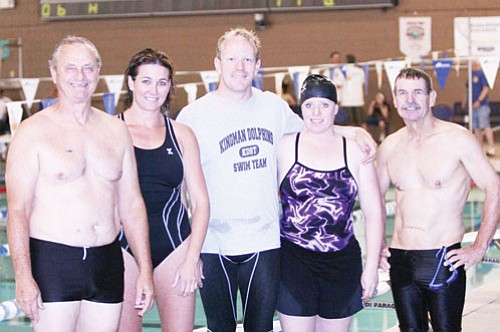 Originally Published: June 22, 2008 6 a.m.
KINGMAN - A contingent of five Kingman swimmers cut through the water on June 14 in Las Vegas at the Desert Breeze Indoor Pool and returned to town with seven first place finishes.
John Welton, Todd Boyd, Leslie Martin and Russ and Shila Eidman all contributed at least one first-place finish in the U.S. Masters Swimming Long Course Meters event.
Welton captured the men's 100-meter breaststroke in the 60-64 age division with a time of 1:41.40. Welton also joined Boyd, Martin and Shila Eidman in winning the 200 medley relay in 3:23.83.
"I was pleased with my performance," Welton said. "I thought I did pretty good for a long course. We don't do that a whole lot of that here."
Welton also took second in the 200 freestyle, and finished third in both the 50 and 100 freestyle.
Welton said that he has been swimming in the USMS for about 13 years. He swims in four to five events a year when the senior's organization is included.
When asked to choose his favorite event, Welton said it would be the 200 freestyle. "It's not a sprint, and it's not long distance. It's right in between," he said.
For Welton, swimming is his way remaining fit and swimming in the meets function as a social gathering tool for him. "I get together with some guys I know from Florida, Colorado and Tucson," he said. "The only time we get together is at the meets."
Boyd (60-64) took first place in the 100 freestyle with a time of 1:19.58 and finished second in the 50 freestyle. Russ Eidman (35-39) collected two individual first-place finishes, one in the 400 freestyle and the other in the 200 individual medley. Eidman's time in the 400 was 5:14.80 and 3:02.37 in the medley. Eidman also finished second in the 200 freestyle.
Martin had one first-place performance, two seconds and a third in the 35-39 age division. Martin won the 50 butterfly in 38.10 and finished in second place in the 50 freestyle and 50 breaststroke. Her third-place showing came in the 100 freestyle.
Shila Eidman swam in the 30-34 age division, winning the 50 butterfly in 1:06.81, placing second in the 200 freestyle and finishing fourth in the 50 freestyle.