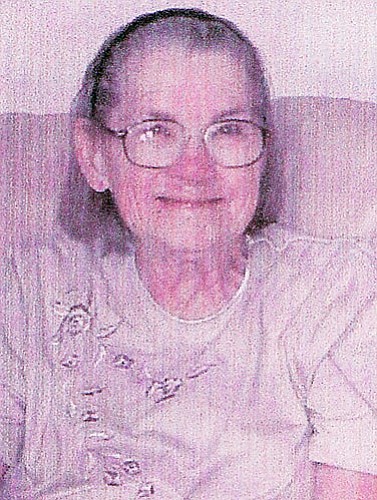 Originally Published: June 25, 2008 6 a.m.
Winifred Grace Hazle passed away at home on June 20, 2008, in Kingman. She was born on Aug., 15, 1915, in Chadron, Neb., to Clarence R. Schwartz and Lois Celestine Battery.
She was reared and received her schooling in Hot Springs, S.D. She worked as a telephone operator until her marriage to Vincent (Bud) Emery Carff on Aug., 27, 1937, in Edgemont, S.D.
Bud and his folks were managing and working the KSK Ranch west of Hot Springs, but in August they gave this up and moved to Edgemont. Here, Grace worked as a telephone operator until 1940, when she was replaced by the "dial system." Later, she and Bud leased a farm east of Edgemont and lived there until they bought the Cleve Brown property southwest of Edgemont. Bud and Grace had four sons, and they were reared here.
In the 1950s, Grace was the only female field reporter for the A.S.C. office in Hot Springs and in 1958 was employed at the Black Hills Army Depot, first working in the Transportation Department then in the Finance Office. She worked at the depot until it was phased out in 1967.
Because of Bud's health, they sold the ranch and moved to Riviera, Ariz., in 1974. Bud passed away in 1976. Grace remained in Riviera and later met and married Leon Parker. She taught at the Riviera Christian School for several years and then moved to Kingman in 1986. Leon passed away in 1988.
In 1993, Grace and Billy Hazle were married in Pensacola, Fla., while visiting her son and family. They were later married in the Las Vegas LDS Temple in 1997.
Grace is a member of The Church of Jesus Christ of Latter-day Saints. She is also a member of the Kingman Rebekah Lodge No. 12 and served as noble grand and district deputy president.
Grace is survived by her husband, Billy Hazle; two sons, Dennie E. Carff of Brentwood, Calif., and Clarence (Butch) W. Carff of Pensacola; six stepsons and one step-daughter; 18 grandchildren and 27 great-grandchildren.
She is preceded in death by her parents, two sons, two daughters, one stepsister, her late husbands, and grandson, Toby Carff.
Funeral services will be held at 11 a.m. Thursday, June 26 at the LDS Rutherford Chapel on Detroit and Rutherford, with a viewing at 10 a.m. in the Relief Society Room. Bishop Milton Aul will officiate. Internment will be in Mountain View Cemetery in Kingman.