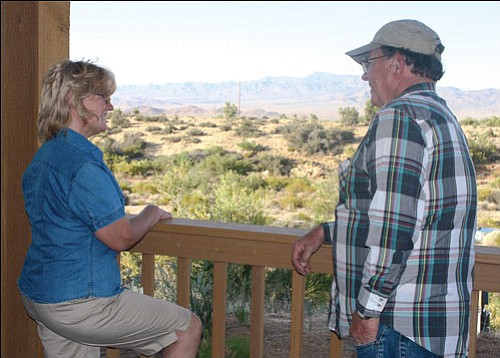 Originally Published: June 29, 2008 6 a.m.
KINGMAN - It's amazing the difference a few miles can make, and Tommie Upton should know. From the vantage point on her home's back porch, she can see a gorgeous panorama of Kingman and all of the surrounding Hualapai Valley.
And for $90 a night, anyone else can, too.
Tommie and her husband David have converted their home at 499 South DW Ranch Road into Upton's Hidden Pines Bed & Breakfast. Situated on a hill 10 miles to the north and east of Kingman up Interstate 40, Tommie said the scenic beauty and quiet solitude of the location led her and David to turn their home into an alternative to the bustling chain motels on Route 66.
"Once we got started, we sat up here and said 'Oh gosh, it's so pretty. Let's share it,'" Tommie said.
Upton's Hidden Pines has three guest rooms, two of them handicapped accessible, a vast common room and a fully-stocked kitchen where chef and business manager James "Shorty" Todd can make "anything you want," though Upton's Hidden Pines prides itself on its signature breakfast casserole.
For its seclusion, the bed & breakfast has modern amenities as well. A reading room stocked with books and wireless internet access sits off the main upstairs hallway, with satellite television available in the common room.
Downstairs, the handicapped-accessible shower is equipped with jets that turn a regular bath into a relaxing spa.
Just down the hall, another room stands empty, save for a state-of-the-art aqua massager, a device somewhat akin to a tanning bed, which uses high-pressured 95-degree water jets to unwind the muscles and soothe the mind.
"We've tried to make it as comfortable and relaxing as possible," Tommie said. "In the old days, when you checked into a saloon, they'd take your guns. I take your cell phone."
But for all the luxuries of home away from home, nothing is perhaps as relaxing as sitting out on the Uptons' wraparound porch. That is their motto, after all - "Doin' a little front porch sittin,'" and nowhere in town can one find a place so quiet and close to nature.
Sitting at one of the several bistro tables or individual seats, one can listen for sounds and hear nothing but the birds and the wind. The Uptons have put water troughs and birdfeeders in the surrounding grasses, and local wildlife is a common sight.
"I have lots of hummingbirds - they like the catclaw blooms and desert-willow blooms," Tommie said. "This is why I don't get a lot done during the day, because I love watching the birds."
In addition to hummingbirds, Tommie said she often sees quail, owls, hawks, even the occasional deer.
"In fact, yesterday I saw two deer coming to water, and I scared them," she said.
Even though it's just a few minutes out of town, Upton's Hidden Pines carries with it a wealth of local history in addition to its beauty. Tommie inherited the land from her father, cattle rancher Howard Grounds, upon his death in 2002, though the land has been in the family since 1926.
Personal touches from the Grounds family history can be found throughout the B&B. A wide-open stone hearth in the main room contains stones from Kingman's old Chamber of Commerce building, as well as other rocks from Howard Grounds' personal collection.
"My dad was a collector of rocks, so I put some of his favorite rocks into my fireplace," Tommie said.
Along another wall hang old photos and paintings of her grandfather William Grounds and his favorite horse, Kino. Beneath these, in the corner of the room, William's old rancher's hat rests alongside his boots and his lasso. Even the cow-pattern draperies reference the family's cattle-ranching past.
"Because this is all because of cows, I've got my own herd," Tommie said, referring to the draperies. "They've got their own barn, too."
The "barn" consists of a series of tiles above the drapes which were taken from Kingman's old Central Commercial building. Referencing an old photograph from the WF Cattle Company's days, the tiles bear a striking resemblance to the old ranch's barn.
Even the individual guest rooms are named after Tommie's grandparents. In "the Nelle Room," so named for her maternal grandmother, Tommie has vintage photos.
"These actually came from my grandma's house," she said. "They were on the wall behind her sofa."
Offering a marked contrast to the motels of Kingman and the commercial resorts of Laughlin, the Uptons are pushing their bed & breakfast as the perfect getaway for honeymoons, birthdays, family reunions, or even just people looking to get away from the press of everyday life.
For more information or to ask about reservations, call (928) 279-7394.
More like this story