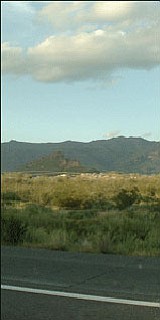 Originally Published: June 29, 2008 6 a.m.
KINGMAN - The Arizona Department of Transportation State Transportation Board approved $18 million in funding for the Rattlesnake Wash traffic interchange project.
At their June 20 meeting in Nogales, the board approved $18 million of the more than $25 million cost for the project, said Michele E. Beggs, public information officer for ADOT.
The funding is a part of their 2009 to 2013 highway construction programming cycle. The balance of the funding will likely be added during the next cycle during the fiscal years 2010 to 2014, she added.
ADOT scheduled the Rattlesnake Wash traffic interchange project on the 2013 five-year construction plan. The project is in design now, Beggs said.
In 2004, the then-Kingman City Manager Roger Swenson and ADOT Kingman District Engineer Sam Elters signed a letter of commitment to the project.
The funding from ADOT will be used for the first phase of the two-phase project. The construction costs for the first phase will be shared between ADOT and Kingman in a 70 percent and 30 percent split respectively, Beggs said.
The split will require Kingman to cover the remaining balance of the more than $35 million project. Under their five-year construction plan, Mohave County is also contributing $2 million toward the construction of the project.
The agreement excludes right-of-way costs, which must be acquired by the city in 2011. Kingman will be solely responsible for the design and construction costs for the second phase.
The first phase includes the construction of Mohave Drive approximately four miles north from Louise Avenue to Industrial Boulevard. The second phase would extend Mohave Drive three miles south to Hualapai Mountain Road.
For more information regarding ADOT projects, go to www.azdot.gov.
More like this story